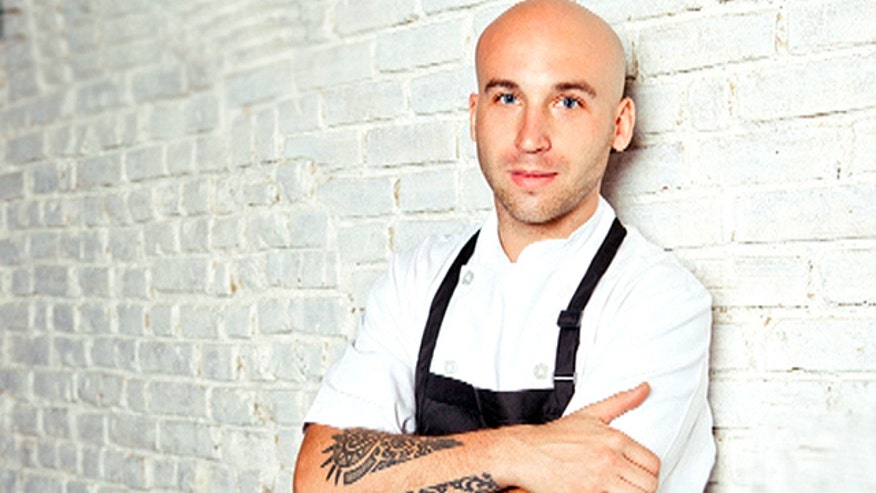 Chef Vinson Petrillo is a rising star in the culinary world. No stranger to cooking under pressure, Petrillo is making a name for himself showcasing his unique style on competition cooking shows, as well as at Prospect restaurant in Brooklyn, New York.
After his debut on Food Network's "Chopped," where he cooked what the judges called a "perfect dish," Petrillo was invited back to compete "Chopped Champions."
"I was a nervous wreck," Petrillo recalled of his first time on "Chopped." "It's like a math test in high school and your mind kind of shuts off. I've been doing this my whole life but I can't pull it together."
Luckily, Petrillo pulled it together to make it through the first round.
"So the next round, all I did was cook and I made what they called a perfect dish and then dessert, the same thing," Petrillo told FoxNews.com's Kitchen Superstars. "Then I went into Chopped Champions and I knocked it out of the park. I beat a Michelin starred chef."
When he's not cooking for a panel of judges, Petrillo is in the kitchen at Prospect restaurant in Brooklyn, where he works with Executive Chef Kyle McClelland to create innovative dishes.
"What we're doing here is definitely a Manhattan-style restaurant in Brooklyn," Petrillo said. "We look for seasonal ingredients. We prepare them in a unique, fresh way. We like to showcase the ingredients themselves instead of doing too much to them."
Petrillo and McClelland aren't afraid to use ingredients some other chefs may shy away from – like stinging nettles, a plant that grows wild in the U.S. and is covered with tiny hairs that sting like needles when touched. The chefs must use gloves to handle the plants.
"We're not trying to duplicate what anyone else is doing," Petrillo said of the food at Prospect. "We're trying to do our own thing. We're trying to keep it fresh, trying to keep it focused on the season as much as possible. We're definitely thinking outside the box."
Juliet Huddy currently serves as a New York-based correspondent for Fox News Channel (FNC). She joined the network in 1998 as a Miami-based correspondent. Additionally, Huddy is an anchor for WNYW-TV's (FOX 5) Good Day Early Call.