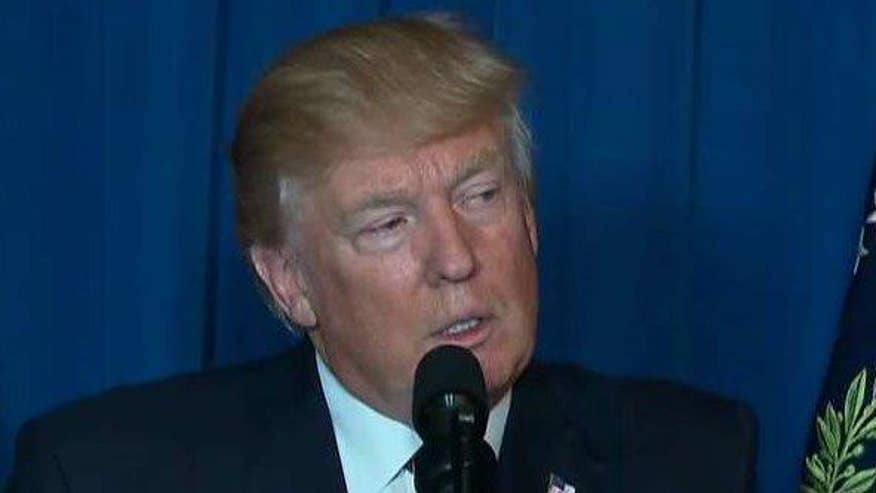 President Donald Trump announced Thursday the United States blasted a Syrian air base with a barrage of cruise missiles in fiery retaliation for this week's gruesome chemical weapons attack against civilians.
"It is in this vital national security interest of the United States to prevent and deter the spread and use of deadly chemical weapons," Trump told reporters from his Mar-a-Lago resort in Florida.
Following Trump's announcement, many public personalities took to social media to share their thoughts.
he thinks he is on the apprentice - with his fake set in florida - like qvc - like palin had in alaska - a taped message w/bad audio - WTHF

— ROSIE (@Rosie) April 7, 2017
President Trump is sending a clear message: the apology tour is over. We fight when you rattle our cage. #syriaattack

— Tomi Lahren (@TomiLahren) April 7, 2017
Wait. What?!
Heart breaking. #Syria

— kerry washington (@kerrywashington) April 7, 2017
Hadnt seen the news. The only thing to tweet right now is a prayer for peace and safety.

— Lena Dunham (@lenadunham) April 7, 2017
Trump on Syria: "No child of God should suffer such horror." BUT NO WAY, NOPE. THEY CAN'T COME HERE.

— George Takei (@GeorgeTakei) April 7, 2017
It's sad that politicians can't find money for education, clean water or healthcare but they can spend millions to "send a message to Syria"

— Trevor Noah (@Trevornoah) April 7, 2017
Trump would slam Obama 4 announcing military decisions in advance. Yesterday before the airstrike, Trump tipped off the Russians. Naturally.

— Michael Moore (@MMFlint) April 7, 2017
My heart is breaking in half for the people of Syria

— Ryan Tedder (@RyanTedder) April 7, 2017
My God. Just my God. Hypocrisy is a tremendous thing. https://t.co/dJMoiEsY1j

— Josh Gad (@joshgad) April 7, 2017
Good on @realDonaldTrump for telling Assad enough is enough with action. And for sending a message to Assad's buddy Putin.This I can defend.

— Jedediah Bila (@JedediahBila) April 7, 2017
The Associated Press contributed to this report.