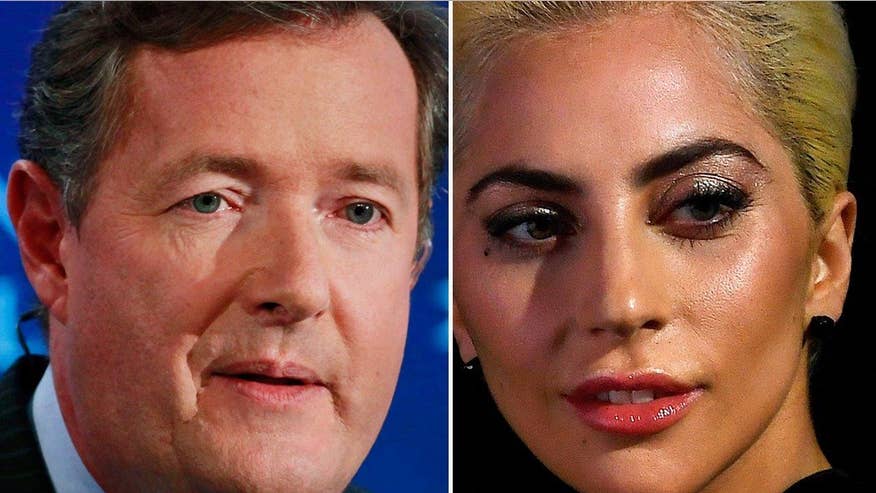 Lady Gaga didn't take it lightly when Piers Morgan insinuated that she and Madonna lied about being sexual assault survivors.
After Gaga, 30, complimented Madonna, 58, on her Billboard Women in Music speech describing her harrowing experience of being raped, Morgan tweeted Monday, "I remain sceptical [sic] about Madonna & Lady Gaga's claims."
He added, "Lady Gaga & Madonna have both made ALLEGATIONS of rape many years after the event. No police complaint, no charges, no court case." In another tweet he wrote, "I fear [sexual assault has] become the latest celebrity accessory." And then, because he couldn't stop himself, Morgan, 51, tweeted, "I wouldn't automatically believe anything either Madonna or Lady Gaga claimed about their lives."
The comments came to Gaga's attention on Tuesday.
Gaga replied, "I've work [sic] w/ our VP Joe Biden on helping educate people about why women don't report, would love to share it w/ you some time." She added, "would also love to talk with you about PTSD, that it's not just a 'military' disorder. There is a mental health youth epidemic. if anyone in your family suffers from it, I pray they have more good days than bad. It has affected me & my whole family."
Morgan seemed unmoved, writing, "I know numerous soldiers with PTSD, it's a very serious thing. I also know people who claim to have it but clearly don't. Let's talk…"
Mother Monster wasn't impressed. "Let's do that & yes Mr. Morgan, I can handle u," she tweeted. "Suprised [sic] you would question that. Was that the 1st question of our interview?"
Morgan didn't respond directly, instead tweeting publicly, "I rather admire @ladygaga for agreeing to an interview after my criticisms. Should be a fascinating debate. I'll press my meat suit."
The "meat suit" comment really got the beef going, with Gaga responding, "if you continue to shame me in the process of kindly agreeing to interview w/ u I'll happily do the interview with someone else."
This article originally appeared in Page Six.