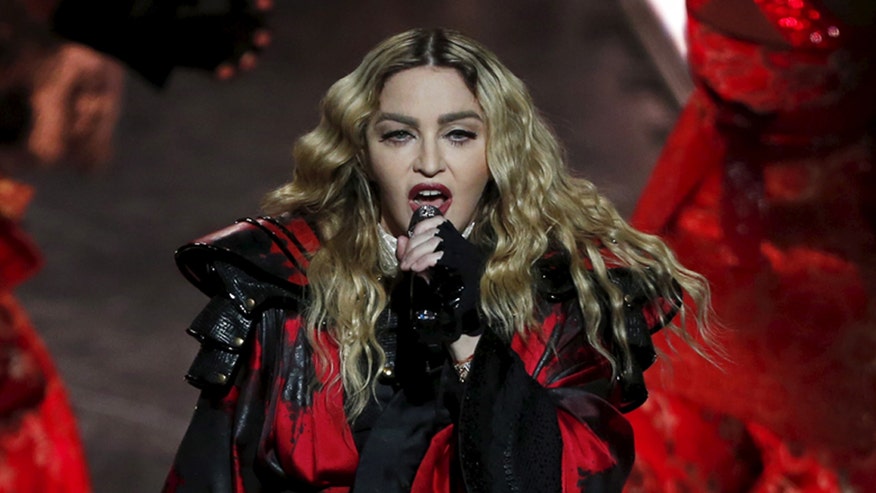 LOS ANGELES – Madonna just wrapped her Rebel Heart tour, but the 57-year-old's shows sparked complaints from fans along the way. After delayed shows and strange on-stage antics multiple headlines have claimed Madonna is in the midst of a meltdown, however some experts tell FOX411 this behavior is not out of the ordinary for the seven-time Grammy winner. Either way, reports and experts agree Madonna's headline-making behavior seems to be a reaction to her ongoing custody battle over her 15-year-old son, Rocco.
Steve Baltin, host of Hulu series "Riffing With," said some of the pop sensation's behavior can be excused because of her rumored ongoing family troubles.

"Even superstars like Madonna are human, so her recent erratic behavior is understandable given the reported circumstances," he said.

Since December, Madge has been fighting to be reunited with Rocco who left the tour to live with his father, Guy Ritchie, in London. The couple divorced after 10 years together in 2008. She has a daughter with Carlos Leon and two adopted children from Malawi. On Monday Justice MacDonald, a London judge, ruled the custody battle will be settled in the United States.
"I renew, one final time, my plea for both parents to seek and to find an amicable resolution to the dispute between them," Justice MacDonald said. "As I observed during the course of the hearing, summer does not last forever. The boy very quickly becomes the man. It would be a very great tragedy for Rocco if any more of the previous and fast receding days of his childhood were to be taken up by this dispute."
US Weekly is reporting that Madonna and Rocco are on speaking terms, however the she and Ritchie are not.
Not long ago, the singer took the stage dressed as a clown, fell off her tricycle and is rumored to have called Ritchie a "son of a b---h" in the process. And at another concert, Madge professed her love for Rocco addressing her audience, "It's a love song for a man, but I know he'll be one, one day. I hope he hears this somewhere and knows how much I miss him."

Madonna has also been notoriously late to her shows-- starting one performance more than three and a half hours after it was scheduled to begin.
Still, experts say the behavior isn't totally out of the ordinary for the singer. Madonna is no stranger to controversy, Ronn Torossian, of 5WPR, pointed out.

"Madonna is – and will remain – a legend. It appears she is going through a lot with her teenage son, and has always spurred controversy and attention."
Madonna's antics spurred rumors that the signer was drunk or high as she performed and cursed out her ex-husband. Madge posted a lengthy Instagram defending herself and her work.
The strange behavior continued as Madonna yanked down 17-year-old Josephine Georgiou's top on stage. The aspiring model said it was "the best night of her life." However, some were horrified by the incident, such as Piers Morgan, who called for the show to be canceled.

But Ralphie Aversa, NY radio DJ, insists Madonna's bad behavior won't stop ticket sales. Meanwhile, Georgiou was spotted in the audience at one of Madge's last shows on her tour.

"What's interesting is that up to this point these stories have never seemed to hurt ticket sales or her popularity with die-hard fans," she said. "Chart-domination is a different story but as we saw with Justin Bieber, a good song shortens people's memories."
And keeping up with her legendary career, Baltin remains hopeful for Madonna.

"She has had controversy before and likely will again. And at this point her following is so entrenched it won't hurt her sales at all... pop fans are very quick to forgive and love a good redemption story."
You can follow Blanche Johnson on Twitter @blancheFOXLA.