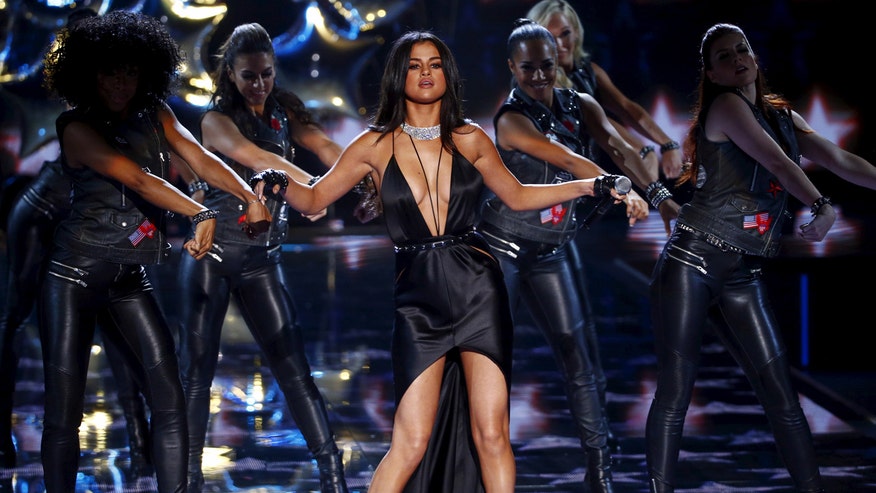 While no one can deny that Selena Gomez looked amazing during her performance at this year's Victoria's Secret Fashion Show, some were questioning whether or not the "Good for You" singer was singing live.
On Tuesday, while the Victoria's Secret Fashion Show aired on television, Victoria's Secret posted a striking photo of Gomez basked in an angelic light after one of her two performances.
WATCH: Selena Gomez Shows Serious Skin in Sexy, Revealing Black Dress at Victoria's Secret Fashion Show
However, a number of commenters suggested that the 23-year-old performer might have been performing to a pre-recorded track. Instagram user melzblush_4 posed the question, "She sings live?"
Gomez took to the comments section to seemingly defend her performance, strongly writing, "Yes I f**king sing live."
Instagram
WATCH: Kendall Jenner, Selena Gomez, Behati Prinsloo Freak Out Ahead of Victoria's Secret Fashion Show
While some commenters weren't sold, there were a slew of fans who came to Selena's defense. "Be strong and ignore the haters," Instagram user ProudOfQueenSelena, a Selena Gomez fan, wrote.
PHOTOS: The Hottest Looks from the 2015 Victoria's Secret Fashion Show
Gomez has not yet addressed the criticism on any of her own social media platforms, but it's clear she feels strongly about defending her ability to sing live.
Four4Four: Is getting ribs removed to look like a cartoon OK?