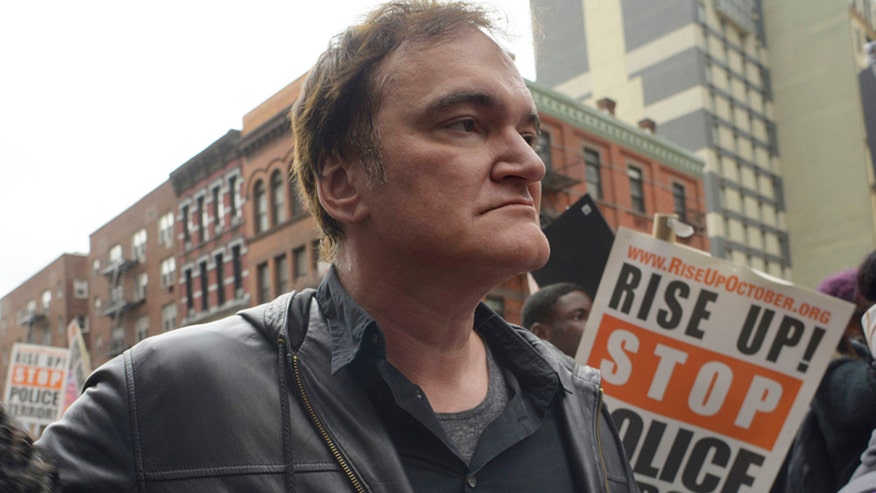 NEW YORK – When Quentin Tarantino premiered "Django Unchained" in New York City on December 11, 2012 at the Ziegfeld Theater, police officers closed the streets and manned the barricades so that he and the film's stars Jamie Foxx, Samuel L. Jackson, and Leonardo DiCaprio could safely promote their new film.
Fast forward to October 24, 2015, and Tarantino received similar police protection at a New York City rally to protest police violence in which he ended up angering many police officers and their supporters when he said to the crowd: "When I see murders, I do not stand by. I have to call a murder a murder and I have to call the murderers the murderers."
The Patrolmen's Benevolent Association of the City of New York (PBA) blasted his statements. So did the Los Angeles Protective League, and most recently, Philadelphia's Fraternal Order of Police Lodge #5, all of which have urged moviegoers to boycott his films.
PBA president Patrick J. Lynch told FOX411 via email: "The irony of protecting cop-haters, particularly wealthy, entitled, elitist cop-haters like Quentin Tarantino, is not lost on the police officers who struggle to support their families in the most expensive city in America. New York City police officers regularly find themselves putting their lives on the line to protect the rights of those who wrongfully and often in a very vile manner, criticize the very officers who are ensuring their right to be heard. We are professional police officers. It's part of the job and we do it with pride."
Actor Dean Cain said if Tarantino does not support cops, then the outspoken director should not have their support during his movie premieres.
"If he's going to be a man of his word and stick to calling them murderers, then he should have his premiere without them, and let's see how they work out," Cain said. "I love his movies, but I absolutely despise his comments."
Producer Vincent Newman said cops are vital at red carpet premieres.
"No matter how genuine and harmless celebrity fans may be, proper distance and presence need to be maintained to deter against an occasional threat or worse, to react in the event something occurs," Newman said.
Tarantino will be premiering and promoting his latest film, "The Hateful 8," starting in December. The LAPD says regardless of anyone's personal views regarding the director, they will be there to protect him and his famous friends.
"We don't boycott stuff," a rep for the LAPD said. "We serve and protect."
Reps for Tarantino and The Weinstein Co., the company producing "The Hateful 8," did not did not respond to repeated requests for comment.
Fox News.com Reporter and FOX411 host Diana Falzone covers celebrity news and interviews some of today's top celebrities and newsmakers. You can follow her on Twitter @dianafalzone.