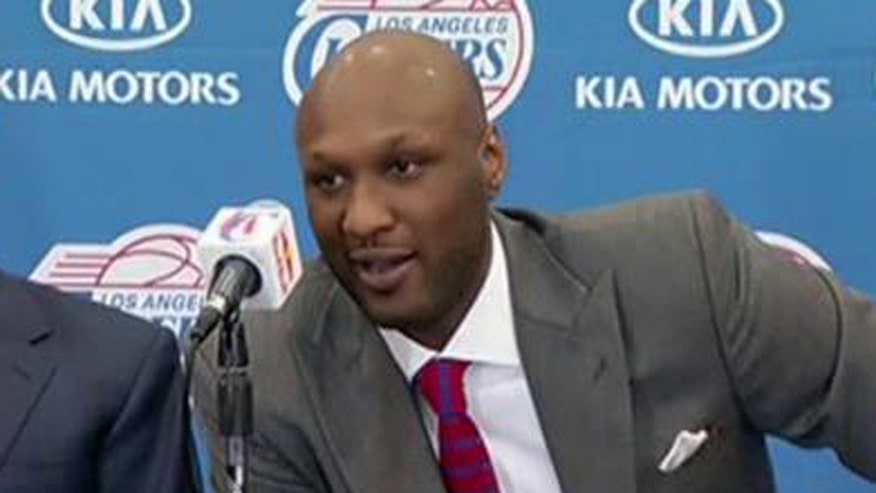 Lamar Odom left a Las Vegas hospital and is now in the Los Angeles area to continue his recovery a week after being found unconscious at a Nevada brothel, a family representative said Tuesday.
The former NBA star was transported by helicopter from Sunrise Hospital and Medical Center in Las Vegas around 5 p.m. Monday, according to a statement from Alvina Alston, publicist for Odom's aunt JaNean Mercer. She did not say where he has been taken in Los Angeles.
The family statement thanked the hospital and Odom's fans and said his estranged wife, Khloe Kardashian, his father and his two children from a previous relationship are with him.
PHOTOS: Inside Lamar Odom's Vegas room
"He continues to make miraculous progress, taking a few steps in Los Angeles," the statement said.
Kardashian released a statement on her website on Tuesday, breaking her silence on Odom's health.
"The past week has been incredibly difficult. I am so thankful to family, friends and fans, who have sent nothing but prayers and well wishes to Lamar. I also want to take a moment to thank everyone at Sunrise Hospital, including the amazing doctors and nurses for their kindness and diligent work. Under their amazing care, incredible strides have been made," she wrote. "You can never be prepared for an experience like this, but without the outpouring of love and endless prayers that Lamar has received and the strength I was given from my loved ones, it would have been difficult to endure. Thank you for your continued support. God is great!!!"
News of his release comes a day after a family statement said Odom's condition was improving. It said he was overcoming "insurmountable obstacles" and defying the odds.
Odom was found in extremely critical condition at the Love Ranch brothel in the rural community of Crystal, Nevada, on Oct. 13 and was hospitalized in Las Vegas. He regained consciousness and communicated for the first time Friday.
The brothel said workers saw him drink alcohol and take supplements sold as "herbal Viagra." The Food and Drug Administration issued a warning in 2013 against one brand he took, Reload, after it was found to contain sildenafil, the active ingredient in prescription Viagra.
He also told at least one of the women that he had done cocaine, but the brothel says it did not see him take any drugs or find any there.
PHOTOS: Khloe and Lamar before the split
Odom's family, including Kardashian, rushed to his bedside at the Las Vegas hospital. Friends, teammates and loved ones also visited and posted requests for prayers on social media.
Love Ranch owner Dennis Hof has said that Odom arrived Oct. 10 for a four-day stay and spent $75,000 on two women who accompanied him in a VIP suite.
The Associated Press contributed to this report.