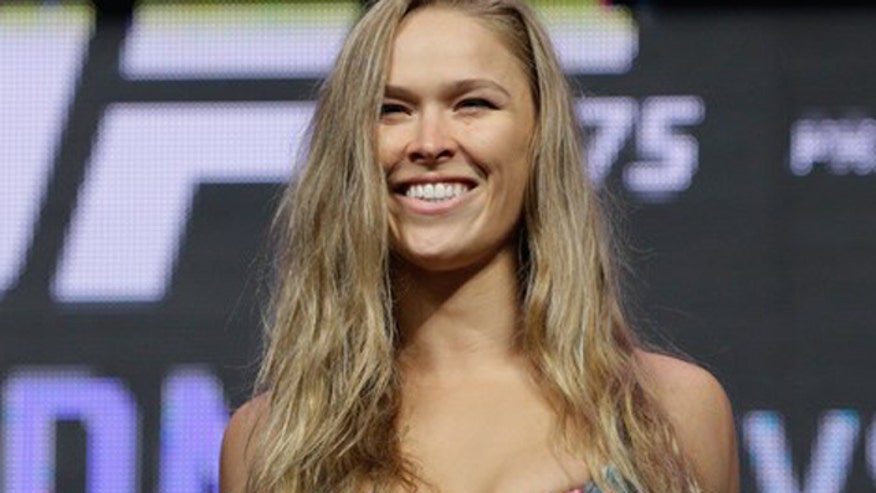 Ronda Rousey has a boyfriend—but don't even think of calling him that.
UFC tough guy Travis Browne told MMA Hour his relationship with Rousey is too mature for titles.
"Dating is for children. Dating is for kids," he said on Monday. "Over the summer, through all the s--t that I had to shuffle through, that I had to sift through, Ronda and I started talking throughout the summer, and I'll say now that we are together. She's my woman and I'm her man. There's no boyfriend, girlfriend stuff. There's no dating. We're together."
PHOTOS: Ronda Rousey relaxes on the beach with friends
Browne raved about Rousey.
"I know her as one of the hardest working athletes that I've ever seen, in this gym busting her butt on a daily basis-- and through our own personal experiences of how compassionate and really how much of a sweetheart she really is. That's what a lot of people don't see out of her. They see that, but they don't really get to experience that."
One person who may not be too happy about Rousey's newly public romance is her date for the Marine Corps Ball.
Jarrod Haschert asked Rousey to the Marine Corps Ball in a viral video, and she said yes.
TMZ reached out to Haschert after the news of her relationship hit the web.
He told the site, "Damn. I really hope she doesn't back out."