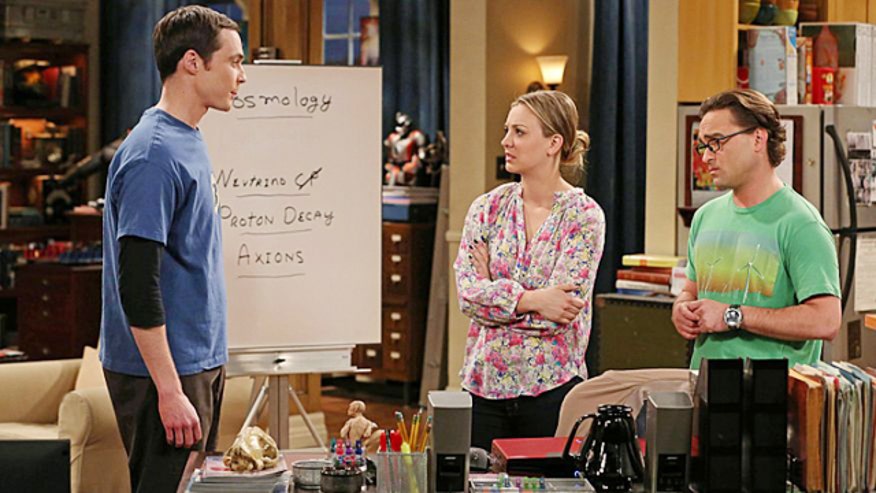 It's been a season full of change for "The Big Bang Theory" though despite a wedding in the season premiere, Penny and Leonard's living situation had somehow managed to remain the same.That all changed last night when Penny and Leonard announced that after a month of marriage they were finally moving in together.
Not even a blue Icee could ease the pain for Sheldon.
Reeling from the news, he heads over to Bernadette's to discuss it. She's flattered he chose her and he explains that after being abandoned by Penny and Amy, he'd attempted to speak to his mother. Then Leonard's mother and also his Meemaw and even Suri (who kept repeating the same answers.) Sheldon commends her for making the top 10 and she pushes him to find a new roommate. Like, say Stuart! Stuart, still living with Howard and Bernie gives the proposal a hard pass.
Kaley Cuoco's BIG red carpet fail
Sheldon does begin to see it as an opportunity to find a roommate who could make Leonard jealous, but the roommate interview process is a tough one. A chemist won't answer a question about elements, one man has a body odor that disagrees with Sheldon and another has a Band-Aid on his arm. There seems to be one promising option, assuming they pass a credit check. If that seems too easy, it's because it's Amy, who flatly refuses Sheldon's offer.
Left with nowhere else to turn after Hollywood actor Chris Pratt doesn't answer Sheldon's tweeted roommate proposal, Sheldon decides to go back in time, deciding to live like it's 2003. But why would anyone want to go back to a year before the iPhone was invented and Paris Hilton was at the height of her fame? For Sheldon it's because that was before he met Leonard, Penny or Amy and became in touch with his feelings.
Leonard is struggling as well. He chokes up as he signs the "Unroommate Contract" and when Penny asks what he'd like to eat on the evening Sheldon had once deemed "Thai food night," the options overwhelm him. It gets worse when the duo find Sheldon sitting on lawn furniture in his apartment, using a flip phone!
They try to remind him they'll still be just across the hall, but Sheldon knows better.
"Eventually you'll want more space," He says. "You'll move into a house. Instead of dinner a couple times a week, it will only be a couple times a month. And then it will only be special occasions. Like when Bernadette announces she's divorcing Wolowitz. Or when Koothrapalli's weird girlfriend admits she buried his body. Or Amy's wedding where she's marrying someone better than me."
Penny, who had been pushing Leonard to make a break, seems especially struck by Sheldon's sad state. As has been the case with most of the change thrust upon the characters this season, they decide to take two steps forward and one step back. Penny and Leonard will alternate between sleeping at their place and Sheldon's. He'll be like their dog! Sheldon agrees, after all, he'll always be excited when they come home and he's afraid of fireworks! Then he reuqests they all sleep at his place on July 4th.
Elsewhere, Stuart announces he'd like to bring a musical act into the comic shop to help with business. Raj and Howard finally decide to form the band and Footprints on the Moon, a "filk" band is born! What's "filk" you ask? A mix of folk music with science fiction of course! Their first single about is about an encounter with Indiana Jones and Thor and it's surprisingly catchy. Unfortunately things don't run smoothly. Raj's girlfriend Emily thinks they need to perform something they can dance too. Which leads to the band, formed at lunch time, being broken up by dinner. Luckily Emily doesn't have half the power of Yoko (and Raj none of the talent of John Lennon) and the duo reunite just as quickly to perform their song at the shop.
Stuart's only complaint? He'd rather hear something he could dance to.