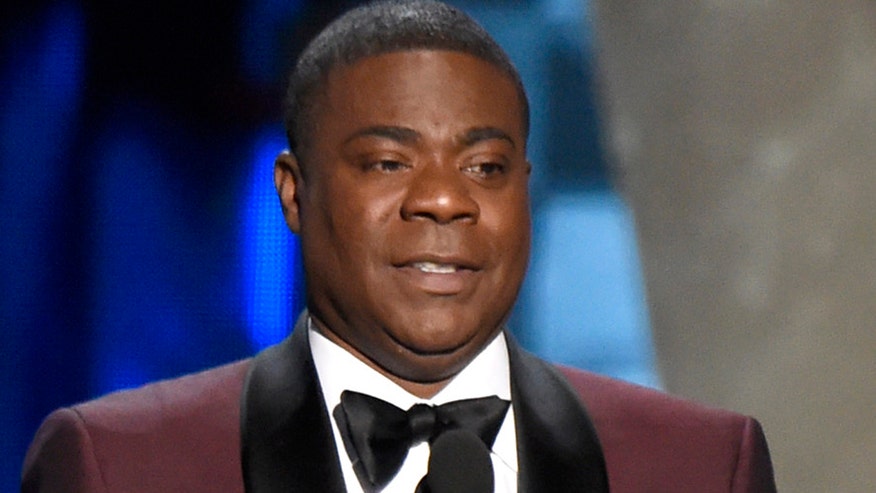 Paula Deen nearly ruined Tracy Morgan's surprise appearance at the Emmys.
Morgan made a big return to the stage at Sunday night's Emmy's, and few people were in on the plan. To keep the appearance under wraps, Morgan flew in a private plane from New Jersey to Los Angeles, and even some Fox executives weren't in on the surprise until the day before the show, E! reports.
The TV chef ran into Morgan at the Four Seasons hotel on Sunday morning and insisted on snapping a pic with the former "30 Rock" funnyman, according to E! News.
As soon as Deen took the photo with Morgan, publicists stepped in to stop her from posting the photo. Deen was informed she needed to wait until Monday to post the pic, E! reports.
She recalled to E!, "I was so happy to run into Tracy. He is another sweet man. And I can tell, knowing him before the accident, that is has put him in a very humble position. He values his life and his wife's life and his daughter's life so much. It was just wonderful to see that he is doing so well."
l ran into a friend @RealTracyMorgan & was happy to see him doing so well. Sending you wishes of love & good health! pic.twitter.com/UvMIm4xVq4

— Paula Deen (@Paula_Deen) September 21, 2015
Morgan appeared on the Emmys stage 15 months after a Walmart truck slammed into the limousine transporting him and other comedians. One of Morgan's close friends died in the crash and the actor was in a coma and suffered a traumatic brain injury.
At the Emmys, he discussed the accident but also joked around. He said after he awoke from his coma, "I was ecstatic to learn I wasn't the one who messed up."
The crowd at the Emmy Awards welcomed Morgan with an emotional standing ovation.
Following the awards show he tweeted, "Man it feels good to be back!!! Love you all!"