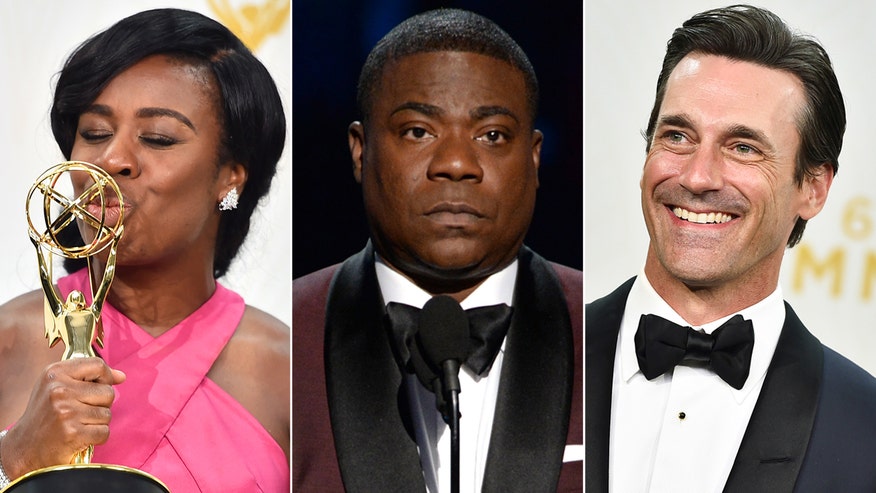 Comedian Tracy Morgan made an iconic return to the Emmys stage on Sunday, and drew laughs from the audience, who stood and applauded his triumphant return. The "30 Rock" star recalled waking up from a coma after he suffered a brain injury.
"I was ecstatic to learn I wasn't the one who messed up," Morgan joked.
Morgan handed out the award for Best Drama Series to "Game of Thrones." Before that, Mel Brooks handed out the Best Comedy Series award to "Veep."
The television awards were filled with funny moments from host Andy Samberg and jokes from the winners and presenters alike.
The first winner of the night, Allison Janey, sang her way through parts of her acceptance speech. She took home the Best Supporting Actress in a Comedy Series award for "Moms."
She thanked series producer Chuck Lorre for creating a deeply flawed character and "thinking of me to play her."
Julia Louis-Dreyfus' series "Veep" won Best Comedy Series, and she won the Lead Actress in a Comedy Series Emmy. She poked fun at Donald Trump during her speech.
Jon Stewart's "The Daily Show" took home several Emmys including Best Variety Talk Series. The comedian, who wrapped the series this year, quipped, "Thank you so very much. You will never have to see me again."
The evening also made history. Viola Davis of "How to Get Away with Murder" became the first African-American to win Best Drama Series Actress. She passionately accepted the award to much applause.
Also during the night, a serious Jeffrey Tambor won the award for Lead Actor in a Comedy Series, marking his first Emmy win. His director, Jill Soloway, also took home an Emmy for best Comedy Director for their series, "Transparent."
"Olive Kitteridge," based on the Pulitzer Prize-winning novel by Elizabeth Strout, nearly swept the limited series categories, with six trophies including the top award and lead acting honors for Frances McDormand and Richard Jenkins and a supporting award for Bill Murray.
Regina King of "American Crime" won supporting actress honors for a limited series.
Samberg noted that the 67th Emmys coincided with the 67th birthday for George R.R. Martin, whose novels are the basis for "Game of Thrones." A smiling Martin was in the theater audience to accept the congratulations.

Before the awards were handed out, the night kicked off with Samberg performing a pre-recorded song about how he's watched all the television out there.

The video mocked the massive amounts of television now and audiences' struggled to keep up, locking Samberg in a bunker for a year while he got caught up. When he emerged from the bunker, Samberg sneaked up on Jon Hamm and Kerry Washington, causing them to gag on his poor hygiene.

Samberg's opening monologue included jokes that poked fun at Paula Deen, Trump, Arnold Schwarzenegger and Justin Timberlake.
He also took note of what he called the most diverse group of nominees in Emmy history.
"So congratulations, Hollywood, you did it. Racism is over! Don't fact-check that," Samberg said.
The Associated Press contributed to this report.
WATCH: FOX411's Fall Movie Preview