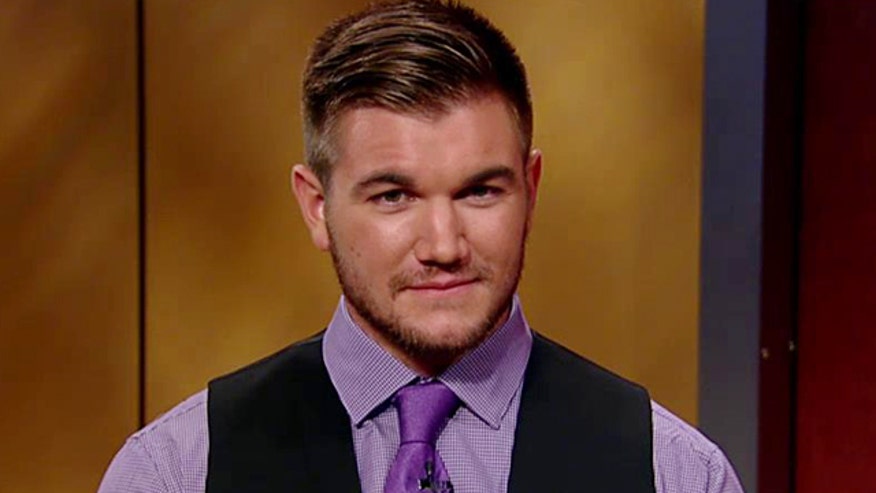 Double amputee military vet Noah Galloway became the "Dancing with the Stars" breakout star last season—and he convinced another American hero to give the ballroom a try.
Army National Guardsman Alek Skarlatos, who with two friends bravely tackled and disarmed an alleged terrorist on a European train, told FOX411 before the "DWTS" season 21 premiere (airing this Monday night) that Galloway is his inspiration.
"I hadn't watched the show before, but while [producers] were talking me into it, they gave me Noah's number and I talked to him a little bit and he helped talk me into it," Skarlatos said in an exclusive interview.
"He's really cool. Hearing it from another military person--how much fun it was and how much he learned on the show--was kind of a great tool that he used to convince me."
Skarlatos also said that he was ready to pursue something lighthearted, thinking, "It's dancing, it will be fun, I'll learn something new, it will keep me busy for awhile."
And he revealed the Army National Guard had generously given him "a lot of leeway to do the show. They've pretty much said do what you need to do."
Skarlatos shot to fame with his longtime buddies Spencer Stone and Anthony Sadler after they courageously jumped up and subdued a gunman with an AK-47 while traveling on a train from Amsterdam to Paris.
The military man, who was vacationing with his two friends in August after he'd completed a mission to Afghanistan, still can't believe the acclaim they've received for their actions.
"I didn't even think it was that big of a deal," Skarlatos said modestly. "I thought they'd take us to the police station to question us and then we'd go on our vacation like nothing happened."
Instead, Skarlatos found himself in the center of a never-ending media storm—and discovered some famous fans.
"I met Arnold Schwarzenegger two nights ago and had dinner with him," he told FOX411 on Thursday.
"Donald Trump gave us a shout out on Twitter which was really cool.
"So much has happened. It's been crazy and exciting."
And now, Skarlatos is lacing up his dance shoes.
The Army National Guardsman said his "work ethic" has been his strength so far in DWTS rehearsals with partner Lindsay Arnold but his weakness "is everything else."
He added, "Rehearsals are fantastic. She's a great teacher [but] it is hard."
Arnold told FOX411, "He works really hard and he can hear counts in music, which is amazing. And he also takes direction really well. I think his weakness is he's little stiff-- because he's got those muscles--so we're trying to loosen him up a little bit and get him more flowy."
Skarlatos, 22, said he has no dance experience whatsoever—not even freestyling.
"The town I come from doesn't even have [night]clubs," laughed the Oregon resident.
Skarlatos said his fellow train hero friends weren't jealous about his "DWTS" participation, adding, "They're making a lot of fun of me but secretly, deep down, they're hoping I do well. They are excited for me."
"DWTS'" female fans might also be excited that the handsome hero doesn't have a girlfriend right now.
His partner Arnold, who recently got married, said she's making the warrior ballroom ready by insisting he get a shave.
Skarlatos smiled, "If I had any say, I wouldn't be clean-shaven right now."
Meanwhile, he, Stone, and Sadler continue to receive accolades. Skaralatos said on September 17, they will be honored at the Pentagon and "afterwards we're going to the White House. We're not 100 percent that we're going to meet the President yet, but fingers crossed."
Meanwhile, FOX News will air a Kelly File special on Friday night, 9/11, about the three brave young men.
Skarlatos explained that the friends agreed doing the big joint sit-down interview with FOX was a no brainer. "We all like FOX News and Megyn Kelly has a lot of viewers so we were like, yeah, why not do that one…and hopefully not have to do any more."
But Skarlatos will face much different questions on Monday night—about his dancing debut on ABC.