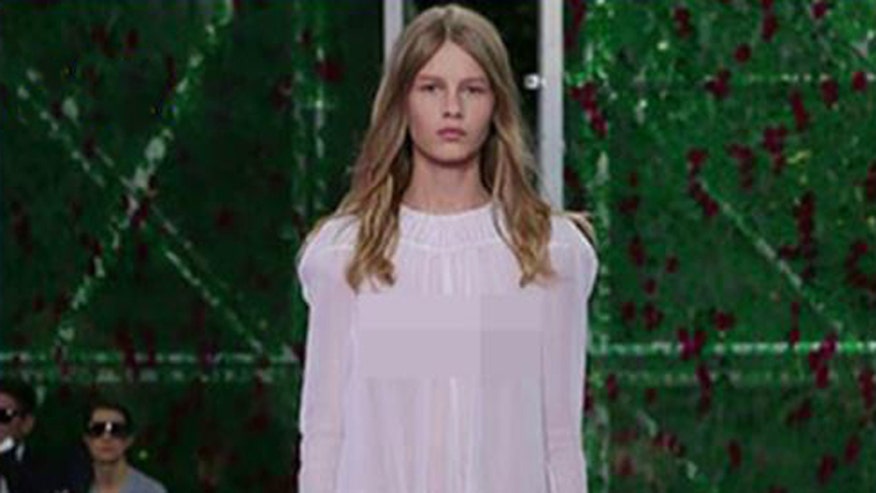 Not everyone adores Dior. The Christian Dior fashion label has come under fire for making a 14-year-old Israeli model, Sofia Mechetner, the face of their very adult brand, signing her to a $265,000 contract, and having her walk in a fashion show topless in a see-through gown.
Critics claim the girl does not meet The Council of Fashion Designers of America's age guidelines. Passed in 2007, the guidelines say models should not be under the age of 16, but with the recent influx of minor models like Cindy Crawford's 13-year-old daughter Kaia, it seems many in the industry are ignoring those policies.
"In 2007, the CFDA established its Health Initiative which strongly recommends that designers do not use models under the age of 16," the CFDA said in a statement. "The CFDA communicates this message to its members prior to the spring and fall castings, and there has been great acceptance of these guidelines. We also support the New York State Legislature law stating that all models under 18 must be treated as child performers."
Robert Casey, President of Maggie Inc., is one agent who abides by the CDFA's policies.
"A girl doesn't even begin to have an idea of the woman she will grow up to be until her late teens, and women should be used to model women's fashions," Casey said.
Model Molly Fletcher, who began her career at 18 years old, also agrees with the CDFA that young girls should not strut their adolescent stuff on the runway.
"I don't think it's good to use underage models, they haven't fully developed physically or mentally," Fletcher said. "So, how could they represent a woman at a young age, let alone deal with the pressures of the industry?"
But editor-at-large for "Daily Front Row" magazine Peter Davis added that using minor models is nothing new and won't change as long as society continues its obsession with youth.
"There are plenty of beautiful girls who are legal to vote and drink and sell gazillion dollar hand bags. But we live in a youth-obsessed world where fashion takes obsessions to the extreme," Davis said. "Brooke Shields was the original child model in the '80s and nothing has changed, and never will. We sexualized a 14-year-old Brooke Shields and the fashion world will continue to churn out pre-pubescent models."
Supermodel Carol Alt appeared on Fox News' "Happening Now" to weigh on whether having underage models working in the fashion industry is okay.
"It's not a safe business. Even at 18 my mother was worried about me," Alt said. "At 20, I was worried about me."
Four4Four: Bundchen's boob job under a burqa SHOCKER
Fox News.com Reporter and FOX411 host Diana Falzone covers celebrity news and interviews some of today's top celebrities and newsmakers. You can follow her on Twitter @dianafalzone.