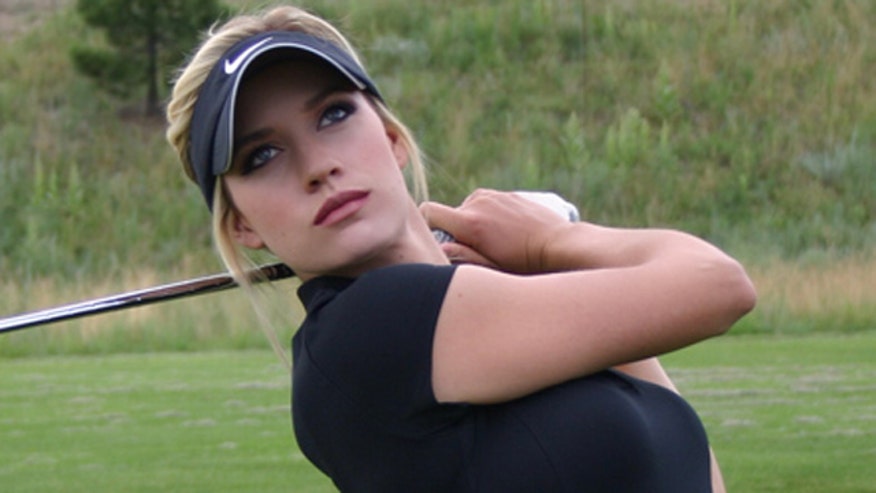 Forget about the British Open, golfer Paige Spiranac is creating a media frenzy of her own, with an Instagram page getting attention from sports blogs around the world. The champion San Diego University graduate has been dubbed as "the hottest athlete on the planet," but Spiranac is taking it all in stride as she sets her set on becoming pro. She spoke to FOX411 via email about her goals to get on the LGPA tour, and how she scoffs off her sex symbol status.
FOX411: What made you decide to start posting your golf videos on Instagram?
Paige Spiranac: My Instagram is a reflection of my life just like anyone else's! I live in active wear and practice nearly every day. As a golfer, I already have a lot of videos of my swing. Many of the changes my coaches tell me to make are so small that it is immensely helpful to see what they are talking about, instead of just trying simply picture it. I figured why not post these along with my still photos!
FOX411: What is your reaction to all of your recent attention especially the media calling you the "hottest sports star on the planet?" Will you embrace the sex symbol status?
Spiranac: It is definitely very flattering! But the most exciting thing for me is possibly being able to use this as a catalyst to jump start a career in golf. I am young, having just completed my collegiate golf career at SDSU, and still have a long way to go, so hopefully this will provide me with the resources I need to continue to evolve my game.
FOX411: Some people have said you are trading on your looks rather than leading with your talent. What do you say to those critics?
Spiranac: Women should be able to look and feel great about themselves without being concerned about having to portray a certain image. You can look great, wear what you want, and still be serious about your sport! I think we should be able to celebrate all aspects of female athletes and not pigeonhole them into "the hot athlete" or "the talented athlete." Women can be anything - and everything - they want.
FOX411: Do you feel pressure as a female athlete to not only be skilled at your sport but also present in a certain way visually? Do male athletes have to be concerned with that at all?
Spiranac: While it may not be at the forefront of the media, body image issues are not reserved just for women. Men increasingly feel the same pressure to reach a certain body fat percentage or muscle mass. There is definitely pressure on both sexes to fit a mold. Everyone should find their own personal style and rock it with confidence.
FOX411: How will you capitalize on your newfound fame?
Spiranac: Giving back is incredibly important to me. I frequently participate in charity events and would love to use any influence I might have, no matter how big or small, to increase the amount of positive impact I can have on others.
FOX411: Are your fellow teammates being supportive of the attention?
Spiranac: Yes! I am lucky to have a great support group. In life there will always be naysayers, but the important thing is to know that you are worth it, that you are good enough, and to keep pursuing your dreams, no matter what others say.
Daily 411: Blake Shelton files for divorce from Miranda Lambert
Fox News.com Reporter and FOX411 host Diana Falzone covers celebrity news and interviews some of today's top celebrities and newsmakers. You can follow her on Twitter @dianafalzone.