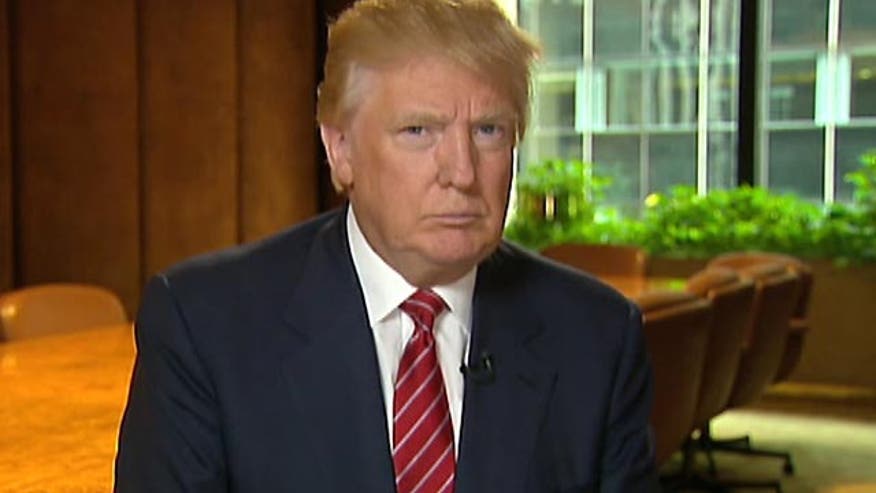 Donald Trump is saying Neil Young is a hypocrite for complaining about his presidential campaign's use of Young's song "Rockin' in the Free World," while at the same time hitting The Donald up for cash.
Trump tweeted Wednesday that Young recently came to his office seeking funds for his high-end audio player Pono.
.@Neilyoung A few months ago Neil Young came to my office looking for $$ on an audio deal & called me last week to go to his concert. Wow!

— Donald J. Trump (@realDonaldTrump) June 24, 2015
Trump even provided a photo to prove it.
For the nonbeliever, here is a photo of @Neilyoung in my office and his $$ request—total hypocrite. pic.twitter.com/Xm4BJvetIa

— Donald J. Trump (@realDonaldTrump) June 24, 2015
Young acknowledged the photo in a statement he released last week.
"A picture of me with this candidate was also circulated in conjunction with this announcement [for president] but It was a photograph taken during a meeting when I was trying to raise funds for Pono, my online high resolution music service," he explained.
Young blasted the Republican candidate following his announcement, claiming Trump didn't have permission to use his tune.
"Donald Trump was not authorized to use 'Rockin' In The Free World' in his presidential candidacy announcement," Young's team said in a statement. "Neil Young, a Canadian citizen, is a supporter of Bernie Sanders for President of the United States of America."
However, when FOX411 reached Trump's campaign manager for comment, he sang a very different tune.
"Through a licensing agreement with ASCAP, Mr. Trump's campaign paid for and obtained the legal right to use Neil Young's recording of 'Rockin' In The Free World,'" Trump's Campaign Manager Corey Lewandowski told us. "Nevertheless, there are plenty of other songs to choose from. Despite Neil's differing political views, Mr. Trump likes him very much."
It's not the first time -- or even the first time this year -- a candidate has been chastised by a musician for use of a tune. When Marco Rubio played the electronic hit "Something New" at a rally, the duo behind the song spoke out almost immediately, declaring Rubio hadn't obtained permission to use the song and they "don't want to be affiliated with a particular party during the upcoming presidential race."
Plus, there can be a big cost associated with using a hit song to promote a campaign.
John McCain said in 2008, though he was a huge ABBA fan, he gave up on using one of their tunes at his campaign events.
"It's more difficult to play 'Let's Take A Chance On Me' than I thought," McCain said at the time, according to Reuters. "It gets expensive in a big hurry, and if you're not careful, you can alienate some Swedes."