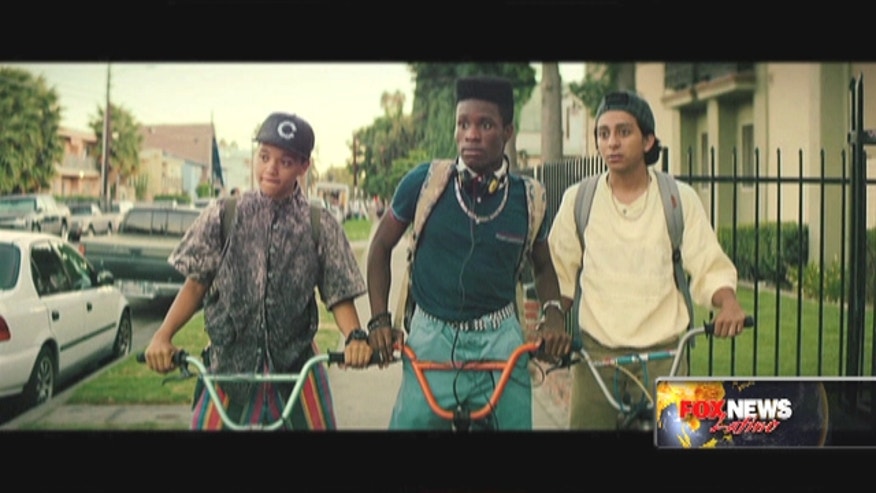 "Who do you think you are?" That is the underlying question in Rick Famuyiwa's new movie, "Dope," which revolves around a young African-American from a rough neighborhood who aspires to attend Harvard.
It's a story that's been told before — young kids who are dangerously close to becoming victims of circumstance despite an unfettered desire to succeed and "leave the hood." But it uses modem storytelling, involving themes of social media and the Internet to reach the audience in an un-preachy way while shattering stereotypes.
"When we're talking about young black men, there's a perception that has become too pervasive that I wanted to really talk about and subvert," Famuyiwa told Fox News Latino.
The filmmaker said he modeled the main character, Malcolm – a "black nerd in the hood" as described by Executive Producer Mimi Valdes – on some of his personal experiences growing up in Inglewood, California.
"Whether you're Asian, black, white, Hispanic there's always these perceptions, some worse than others and some better," said actor Tony Revolori alluding to recurring stereotypes.
Revolori plays Malcom's best friend Jib, who is equally as nerdy and as determined to find a better life outside "the bottoms" or the low-income areas of Los Angeles.
"Being any race you'll be able to relate to this character and this group of friends," said the actor.
Revolori, who is of Guatemalan descent, is quickly emerging as one of the industry's most in-demand young stars.
Most recently he starred in Wes Anderson's Oscar-nominated film "The Grand Budapest Hotel" as Zero the lobby boy. Currently he's shooting the movie "Low Riders" with Academy Award nominated actor Demian Bichir.
"After this I will go to New York and start rehearsals on a play that I'm doing there," he said. "I've just been working nonstop and I hope to stay that way," he added.
"Dope" is chock-full of music ranging from 90's hip hop, which the main character Malcolm is obsessed with, to original music from Pharrell, who serves as executive producer of the movie.
It also features a song from up and coming Latino rapper George Ramirez, also known as Kap G, who told Fox News Latino he's trying to fight the stereotypes that exist within the music industry.
"Being Mexican, being Latino, it's hard to make it in the rap game," said the singer.
Born in Atlanta to Mexican immigrants, Kap G gained a lot of media attention for the lyrics behind his 2014 song "La Policia" which talks about the injustices of the police system.
"I feel like as an artist you need to express your feelings whatever you're thinking, whatever you're experiencing, whatever people go through," he said.
Kap G was also able to show off his acting chops during a pivotal scene in Dope. "Yeah my first movie, I'm out here; I'm a rapper, but hey we're going to start acting now," he said.
The film also served as a platform to showcase the acting skills of other singers such as Hip hop artist A$AP Rocky and Tyga.
"It's really talking to this generation, this new generation," said Kap G.
Other talents featured in "Dope" include Zoe Kravitz who plays Malcolm's love interest, Kiersey Clemins as his gender-bending best friend, and Quincy Combs.
Despite the movie's simple title, the filmmaker embeds a lot of deep social issues in the movie. He addresses the inappropriate or appropriate use of the "N" word, the danger in stereotypes, and the power of staying true to who you really are.
The movie hits theaters June 19 and is rated R.
Naibe Reynoso is a freelance reporter from Los Angeles, California. Follow her @naibereynoso