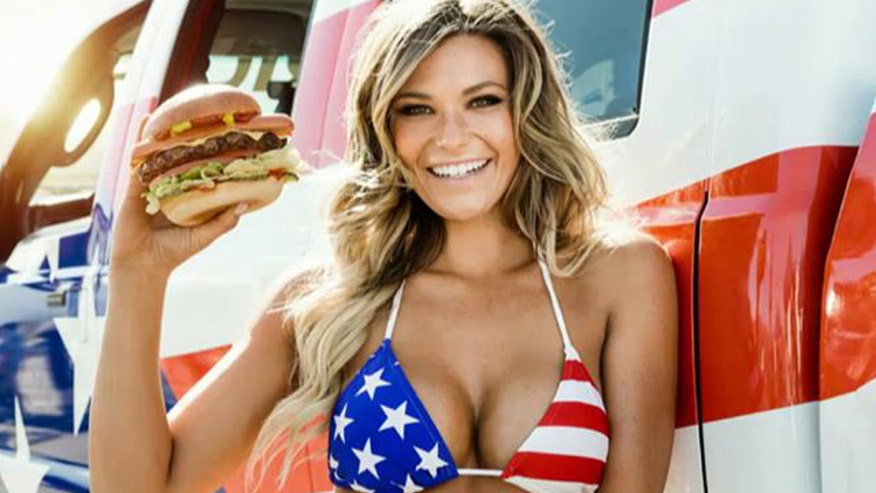 Samantha Hoopes is a Sports Illustrated Swimsuit model, a Guess girl, and she just added a Carl's Jr. commercial to her resume. The 24 year old Elite model talked to FOX411 about her sex symbol status and has a special message to haters telling her to "put her boobs away."
FOX411: So how competitive is it to get the Carl's Jr. commercial?
Samantha Hoopes: I've been waiting for this commercial by the way for the longest time! Maybe the past eight months I wanted this commercial so, so bad. I kept being in the running for the next burger, the next burger and I wasn't getting it. And then all of the sudden I got it. It's competitive. You could be on hold for it and then a girl gets it over you last minute. It's always a constant struggle.
FOX411: You went to Penn State and wanted to be a gym teacher – why the career change?
Hoopes: I was a little lazy after college and wasn't doing much so my mom was like, "You have to get out there and do something. I'm going to find you a job or you go find yourself a job." So, teaching, right now it's hard to find a job and it's really competitive. What makes me a better gym teacher than the next person? I don't know. So, I didn't know what I was going to do and I had a friend who was in California killing it at Elite, and I just decided to apply online and here I am.
FOX411: Would you still want to be a gym teacher if you ever retire from modeling?
Hoopes: I love kids. I wanted to be an elementary school gym teacher and play kickball all day; stuff that I loved as a child. If I would ever make a career change maybe I would go into that but probably not. I would probably stay within fashion – something that I love so much. Or skincare.
FOX411: Is it difficult being seen as a sex symbol? Are there any downsides to it?
Hoopes: You know what, I think it's so funny that I'm even considered a sex symbol. I don't look at myself and think, "Oh my God, I'm so sexy and beautiful." I just am who I am and I appreciate that people look at me like a sex symbol. I don't put pressure on it at all. I'm just trying to make it and make a name for myself, and spread the love I have for my job.
FOX411: Do you embrace the sex symbol label or want to be known for more than that eventually?
Hoopes: I definitely want to be known for more than a pretty face but I don't know. Sex is amazing. Sex sells and I love being a sexy woman. I think it's powerful. I think it's the most powerful thing you can have and it's sad that women look down on girls who have confidence and all of that. Sometimes I have haters who are like "Oh my God, put your boobs away!" I'm a woman so why not?
FOX411: Will we being seeing you in the next edition of SI's Swimsuit Issue?
Hoopes: With the SI Swimsuit it's so under wraps and no one knows what's going on. No one knows who's shooting until last minute so hopefully I am but we'll have to see.
FOX411: It is bathing suit season, any advice for women who might be a little insecure rocking one?
Hoopes: Before you head out on the beach, I like to drink tea in the morning like a spearmint tea or something that really helps with bloating because that's mostly my problem. I bloat a lot. The tea is really cleansing. Other than that, eat light. Only eat when you're hungry. Sometimes you're not hungry. Sometimes you're just thirsty.
Fox News.com Reporter and FOX411 host Diana Falzone covers celebrity news and interviews some of today's top celebrities and newsmakers. You can follow her on Twitter @dianafalzone.