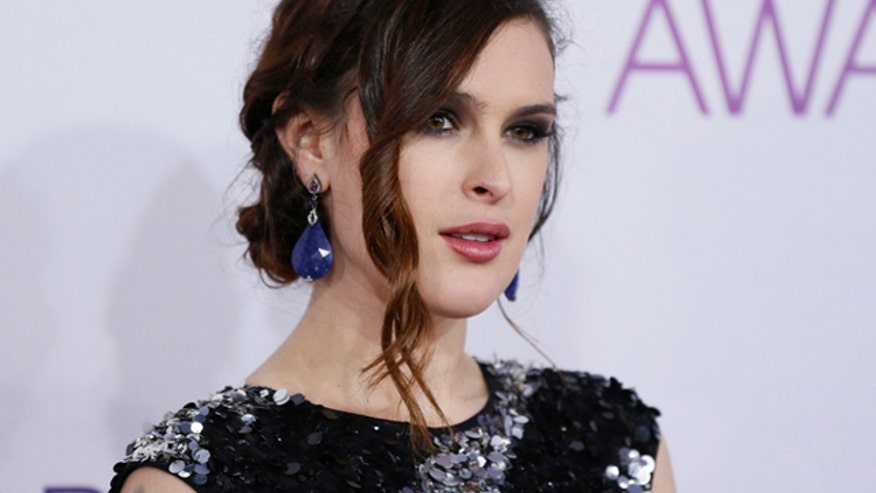 LOS ANGELES – Rumer Willis performed as a dazzling black swan on the Monday night semifinals of "Dancing with the Stars"—but her competition was stiff.
And going into Tuesday's elimination show, all four remaining celebrity competitors looked like they could make it to the finale.
Rumer, gymnast Nastia Liukin, musician Riker Lynch, and war hero Noah Galloway all did two dances, the last of which was "Judges' Choice," in which Len Goodman, Bruno Tonioli, Carrie Ann Inaba and Julianne Hough each mentored a contestant.
Viewers were also treated to tributes from family and friends and in Rumer's TV clips, her famous mother Demi Moore told the cameras how her daughter grew up with haters criticizing her looks.
"There wasn't anything I could do to stop it," Moore dramatically recalled. "I could only just keep loving her until she loved herself."
After Rumer's first dance, a Viennese waltz, Moore showed up backstage to give her a hug on live TV and praise her performance: "I'm truly in awe."
After the show, Rumer told FOX411 the on-camera visit was a surprise: "I had no idea she was even coming back there. I was really stoked. It was awesome."
Both Moore and her ex-husband, Rumer's father Bruce Willis, talked about how much they adored her in videos and Rumer said backstage, "It's a funny thing, you can have your parents tell you those things your whole life but if you have them…not necessarily say it [directly] to you…I feel like sometimes you listen more….I feel so blessed they have such nice things to say about me."
For her second dance, Judge Tonioli chose an elaborate "Black Swan" style number for her and partner Val Chmerkovskiy that got great scores.
Rumer said, "I had the time of my life."
She watched the "Black Swan" movie for inspiration and although she "got a little creeped out," she added, "Natalie Portman does an incredible job, how fierce she is and elegant…I was really trying to do that justice."
Rumer earned a perfect score of 70 out of 70 for the two combined dances.
Musician Riker Lynch and gymnast Nastia Liukin also excelled, both receiving 70s for the night.
Judge Julianne Hough mentored her cousin Lynch (whose partner is Allison Holker), and even danced with him during the routine.
Derek Hough was finally able to dance again for a complete number with Liukin after an injury marred his "DWTS" season and pro Sasha Farber had stepped in.
While Hough danced most of the routine, mentor Goodman did a few moves with Liukin at the end in a performance paying tribute to the veteran judge's life.
On-the-mend Hough hopes to perform with Liukin if they make it to the finals, and the Olympian told reporters: "I think at the beginning of the season, I was more like, oh, the scores and the placement and now…Derek's injury, and seeing the pain he's been in…it's taught me life is about the journey."
Meanwhile, double amputee military hero Noah Galloway thrilled the crowd by proposing to his girlfriend Jamie Boyd on camera.
But he received a score of 66 out of 70 for his two dances, the lowest score of the night.
Judge Inaba, who worked with Galloway and partner Sharna Burgess on a Pasodoble reflecting his life, told reporters after the show, "He's never really been that vulnerable out there…I wanted everybody to see how he deals with the challenge…he's able to overcome everything you throw at him."
Inaba said Galloway could win the show, but added that the celebrities are all evenly matched: "I could see all of them winning at this point."
ABC's Tuesday results show will reveal which three stars will go on to next week's finale—and who will fall just short.