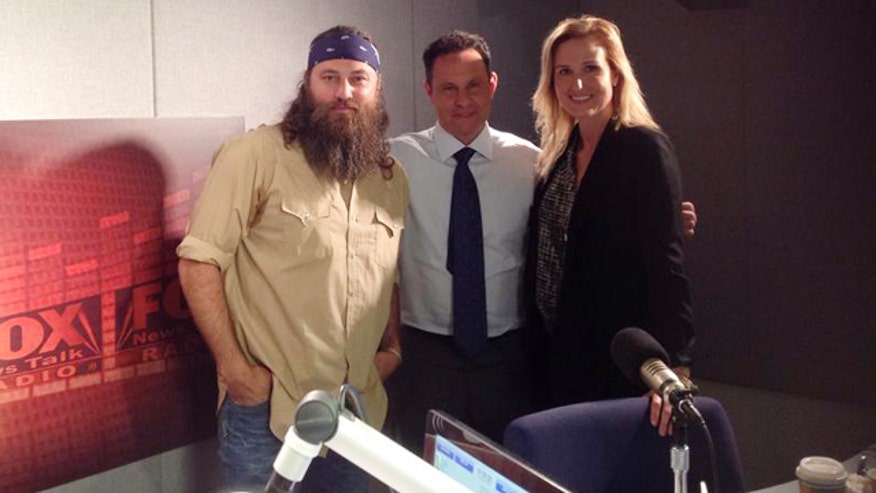 NEW YORK – The stars of "Duck Dynasty" aren't shy about sharing their opinions—just ask the family's patriarch Phil Robertson.
So it should come as no surprise that Willie Robertson has his mind made up about whom he thinks should move into the White House come 2016.
"Someone different," he quipped. "That's obvious."
Who exactly does he have in mind?
Click here to subscribe to FOX411's YouTube channel
"I've been talking a lot with Bobby Jindal, who is our governor. Bobby is a good friend of ours. He and his wife are good friends of Korie and [mine]. He has been on our television show. Anybody that comes down and has been on an episode of 'Duck Dynasty,' obviously is the frontrunner in my book," he said with a smile.
But in all seriousness, the "Duck Dynasty" star added, "Besides all that, he's a good man. He's a Godly man. He's honest, and so I'd like to see if he makes a run at it, and, you know, if so, we'll definitely be trying to help him out."
His wife, Korie Robertson, sagely added that regardless of any political issues in the U.S., she believes America is the greatest nation to live in.
"You travel around the world and you see how truly blessed we are as a country, as a nation, in every single way," she said. "Even though we might have our problems-- and there [are] definitely a lot of difficulties and things we need to work through as a country-- but I think we are definitely the most-blessed nation."
Willie Robertson added how much he appreciates living in the U.S.A.
"I love this country, and I love our armed military men and women. I was honored be able to go over [on a] USO tour and actually be in Afghanistan over there on the ground with them, and, you know, it just makes me proud," he said passionately.
The "Duck Dynasty" stars both said they feel their family's enormous success could only be made possible in the U.S.
"There is no better country," Willie Robertson said. "You can take someone like us, and our family, who had no money—no anything—that were commercial fishing for a living, and within 30 or 40 years we end up on a fancy red carpet talking to media people."
WATCH: Is Deflategate really that big of a deal?