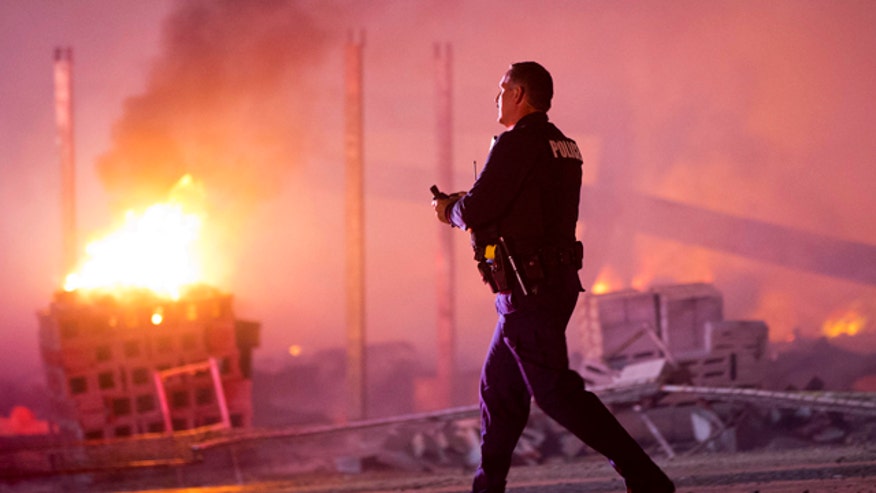 The city of Baltimore saw rioting on Monday night—prompting the National Guard to head to the city to calm the situation. Celebrities with connections to the Maryland city took to social media to speak out about the chaos that broke out after the funeral of Freddie Gray, a 25-year-old man who died last week from a severe spinal cord injury he suffered in police custody.
Some stars of "The Wire," which filmed in Baltimore from 2002 to 2008, reflected on the goings on in the city they spent endless hours in during the hit show's run.
Wishing I could do something. Baltimore. #nightmare #westbaltimore #systemicdecay

— deirdre lovejoy (@ddlovejoy) April 28, 2015
Baltimore. These are not protestors. These are criminals disrespectful of the wishes of the family and people of good will.

— Wendell Pierce (@WendellPierce) April 27, 2015
To my Beloved city Baltimore..I feel your pain. Stand up..rise UP without breaking down! Discipline not Destruction. #VictorynotVictims

— Andre Royo (@AndreRoyo) April 27, 2015
The creator of "The Wire," David Simon took to his blog on Monday night to tell rioters to "go home."
"There was real power and potential in the peaceful protests that spoke in Mr. Gray's name initially, and there was real unity at his homegoing today," Simon wrote. "But this, now, in the streets, is an affront to that man's memory and a dimunition of the absolute moral lesson that underlies his unnecessary death.
"If you can't seek redress and demand reform without a brick in your hand, you risk losing this moment for all of us in Baltimore."

Dulé Hill, of "The West Wing," which filmed in Virginia, Washington DC and Baltimore, shared his hope for peace.
Meanwhile, stars from the series "Veep" and "House of Cards," both of which currently film in Baltimore, remained mum on the riots.

The Baltimore Film Office said filming in the city had not been impacted.
"There are no scheduled film shoots over the next several days and the ones that are scheduled for next week have not been postponed," the office said in a statement to FOX411.
Jed Dietz, the director of the upcoming Maryland Film Festival, which takes place every year in central Baltimore, also added the film festival would go on as planned.
The five-day annual festival is set to begin on May 6.
"We are not in control of everything, as of now... we are looking forward to bringing filmmakers and audiences together as we always do," Dietz told FOX411. "We have this cultural event that starts next Wednesday and we have filmmakers coming in from all over the country and it's in downtown Baltimore in seven different venues. We are looking forward to having people in town, and [showing] these great films."

Celebrities originally from Baltimore also reacted to the headlines coming out of their home city.
Change has absolutely never come w/out contractions. That is birth. You wanna tell someone in labor to be quiet? pic.twitter.com/3lQb3GRtBE

— Penn Badgley (@PennBadgley) April 28, 2015
Do we know why Freddie Gray was arrested? Do we know why he was killed? Do we know why we won't get answers? We do. #BlackLivesMatter

— Penn Badgley (@PennBadgley) April 28, 2015
Everyone in Charm City, please be safe. I love Baltimore and so do you. The world is watching us right now, let's show them who we can be.

— Duff Goldman (@Duff_Goldman) April 28, 2015
You're beautiful, Baltimore. Be safe tonight. #BaltimoreRiots pic.twitter.com/AVOy59Hx4M

— Duff Goldman (@Duff_Goldman) April 28, 2015