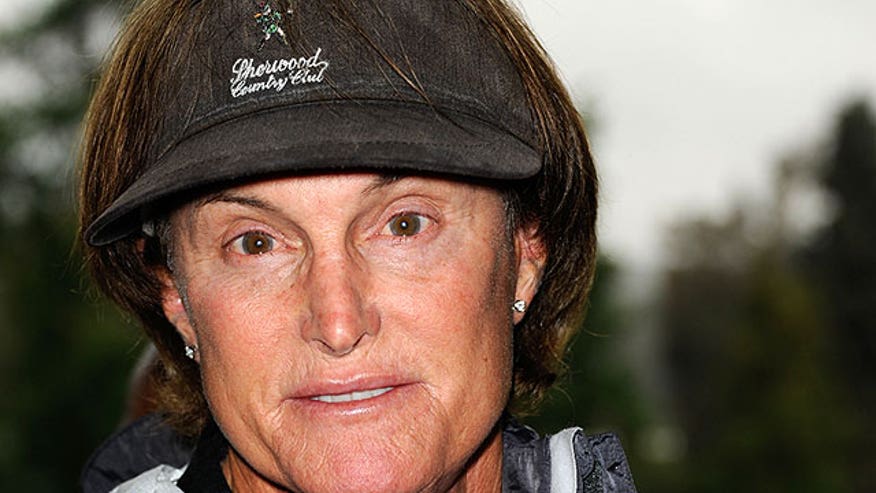 After months of speculation about Bruce Jenner's transition from male to female, photos of the reality star and former Olympic athlete dressed as a woman have purportedly hit the web.
The New York Daily News published a story early Wednesday boasting "world exclusive photos" that the newspaper claims show Jenner in a floor-length black and white striped dress.
The blurry photos, which the newspaper claims were taken at Jenner's Malibu home, feature a person smoking a cigarette outside. A rep for Jenner did not immediately return FOX411's request for comment regarding the images.
First look at the new Bruce Jenner. http://t.co/Ci8nP1Emzw 2015 @NFL team schedules. http://t.co/fQsb7BbUJU pic.twitter.com/Fs6tw93ob4

— New York Daily News (@NYDailyNews) April 22, 2015
The thrice-married father recently called the police to complain about paparazzi staking out his home, according to TMZ.
The gossip site reported that L.A. County Sheriff's deputies paid a visit to his home yesterday to investigate his claims.

The photos appear to be taken by a photographer stationed on a nearby hillside using telephoto lenses. It's illegal to use telephoto lenses to invade private spaces.

According to TMZ, this isn't the first time the paparazzi have used the hillside perch to snap photos of Jenner and he has confronted them before promising to call the police if they returned.

The alleged dress photos emerged days before Jenner's highly-anticipated interview with Diane Sawyer on ABC, during which he is expected to publicly discuss his transition into a woman.

"My whole life has been getting me ready for this," he says in a promo for the sitdown.

It has been a tumultuous few years for Jenner. He has been under intense media scrutiny for his changing appearance, which has included longer hair, nail polish and lipstick. He was also recently involved in a multi-car accident, which left one woman dead. Jenner divorced wife Kris Jenner-- who is the mother of Kim, Kourtney, Khloe and Rob Kardashian-- earlier this year. The couple has two daughters together, Kendall and Kylie Jenner, and he has three sons and a daughter from previous marriages as well.

Jenner first became a household name when he took the gold in the decathlon at the 1976 Summer Olympics in Montreal. Later he re-entered the spotlight as the befuddled dad in "Keeping up with the Kardashians."

Click here to see the photos of Jenner allegedly wearing a dress.