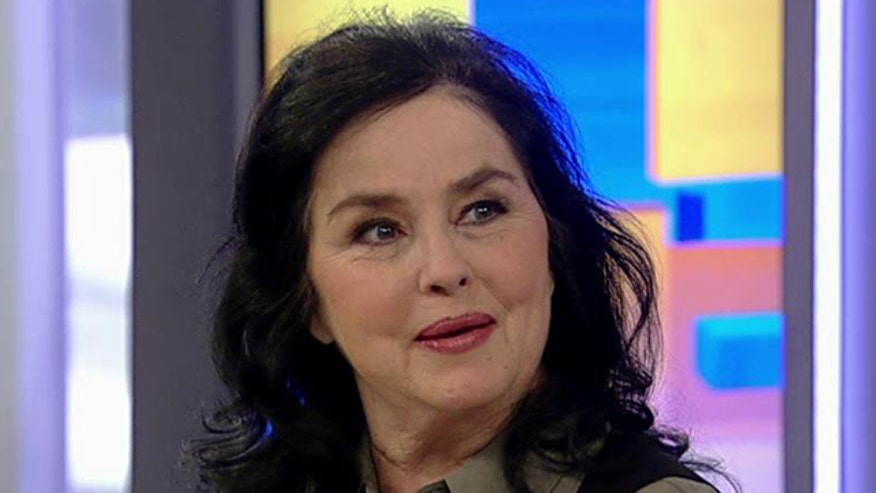 Miss Kay has been busy in the kitchen. The "Duck Dynasty" matriarch has another cookbook out called "Duck Commander Kitchen Presents Celebrating Family and Friends: Recipes for Every Month of the Year." It's chockablock full of down-home recipes. Robertson spoke to FOX411 about the book, Sadie's dance partners and her outspoken husband.
FOX411: How did this cookbook come about?
Kay Robertson: Well you know I had my first cookbook and it did so well. Everybody loved it. They didn't just like the cookbook they liked the pictures and stories. So many people asked me to do another one so that's what I did. This one is recipes for every month of the year. It is just an add-to and extends from where I started. From this I did have to get some help from friends and family members because I did run out but then I tweaked them and put my own part of me into them.
FOX411: Ever get tired of cooking?
Robertson: Well I'm human right? There are times when we work so hard on the show and yes I get tired and it's hard but I want to tell you something. My husband, I'm so proud of my husband, people don't realize that he'll step up to the plate and totally cook if I've given up. He does hamburgers, a lot of grilling, an old-time jambalaya. He can do a mean fried chicken, he does a fried steak with wild gravy. He's good and he doesn't mind it. In fact since I've been on the phone for most of the day with interviews he's going to cook for me when I stop, he's already told me.
People don't see that. They just see the rugged, outspoken man but you know what? There's a lot of sweetness there too.

FOX411: Phil's been giving some speeches lately and getting some flack. Does he go over his speeches with you beforehand?
Robertson: No, Phil's kind of his own man (laughs). And really things come to him, he never has notes, never. I will give him suggestions of things that I like. I love when he does things from the old Presidents. I enjoy that, I always did love history. And I'll tell him what I like and what I don't like. I'll do that quite often as a wife usually does to a husband.
FOX411: Ever surprised by what he's said?
Robertson: Well of course I am, of course.
FOX411: Ever say, 'I can't believe you said that!'
Robertson: Of course, all the time. I'm not scared of him. But I also love him and appreciate what he's trying to do and I think most people don't realize he really is trying to help. Sometimes I think he doesn't get it out exactly right but yes his heart is good and he's trying to be helpful even though it might sound different to other people.
FOX411: You must be so proud of your granddaughter Sadie.
Robertson: Oh yes very, very proud. You know we're all about the table and eating together and having a good time and one of the rules I have at the table, and I have very few rules, but one of them is no cellphones at the table. Nobody and the only ones I had to get onto lately were Sadie's two different dance partners when she was on 'Dancing with the Stars,' Mark and Derek. I looked at them like, 'Are you really on the phone?' And they said, 'Oh Sadie told us, no phones at the table. We forgot, sorry.' And they were so sweet, they got right off and put them away.
FOX411: Besides no cell phones do you have any other table rules?
Robertson: Other than that we don't have any rules. We also have the prayers, I try to make the little ones be still and pay attention. The only person I've had to get onto in the family and this is an adult, who do you think it was? I had to get onto him for throwing tiny tomatoes.
FOX411: Uncle Si.
Robertson: Nope, it was Willie. Hmph.
FOX411: You don't sound very pleased.
Robertson: He made me so mad. I'd just bought the tomatoes, they were good, fresh ones, don't waste 'em. So he throws them across the table to hit Jason or Jep.
FOX411: Don't you think it was really brave of Lisa and Al to write their story?
Robertson: Oh I totally agree. I tell everybody about that book. It's open and honest. Our family has got to get an award for being the most open family in America because we just tell it all, the good, bad and the ugly. I love my family for that because they feel if they can help anybody in any way they want to do it.
What people don't realize, even in Phil's way because he's a little rough around the edges, all he's ever tried to do is help America and help families and help people and that's really what we're about. We can't help but do that.
I still work with women's groups. I help Mercy Ministries and some other right-to-life groups and abused women or women who have come out of the world of trafficking or prostitution and want to change their lives and to have the honor to work with those women and actually help them is just the greatest thing there ever was to me.