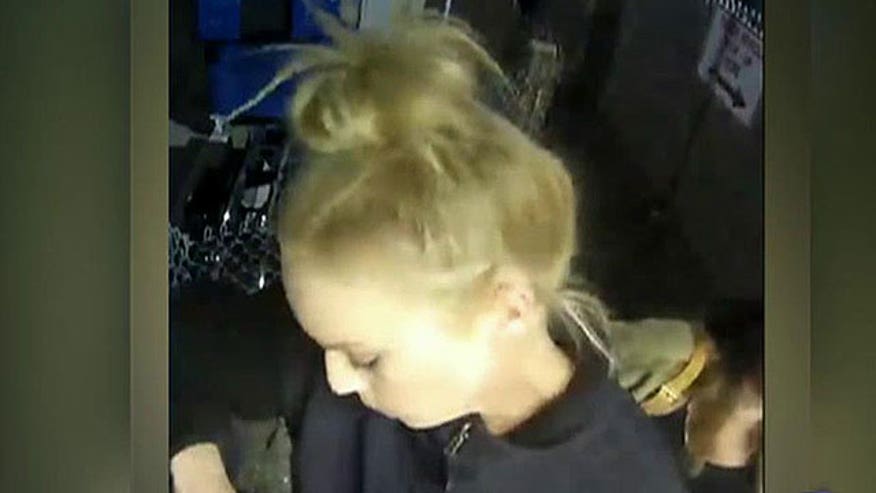 Social media users are calling for a harsher punishment for suspended ESPN reporter Britt McHenry after a video surfaced of her berating a parking lot attendant.
The news of McHenry's week-long suspension came hours after the video began making the rounds on the web.
Many conveyed that they felt the punishment was far too light, given the content of the viral video.
Washington-based McHenry was angry about having her car towed on April 6, according to the New York Post, and she began dressing down the attendant. In security camera footage she can be heard saying things like "With no education, no skillset… Do you feel good about your job? So I could be a college dropout and do the same thing? Why, cause I have a brain and you don't?"
She also adds, "lose some weight, baby girl" as she exits the lot.
Whoever decided to only suspend Britt McHenry for one week should be suspended. Absolutely inadequate punishment.

— Cory Rothschild (@coryrothschild) April 17, 2015
If @espn does not fire Britt McHenry I would be very disappointed. Berating someone's teeth, job, education and weight is disgusting!

— Lindsay Connolly (@lindzconnolly) April 17, 2015
Britt McHenry needs to be fired. That's absolutely unacceptable.

— Laura Riney (@lauraRiney) April 17, 2015
McHenry apologized for the rant on Twitter, saying the stress of the incident caused her to act out.

"I allowed my emotions to get the best of me and said some insulting and regrettable things," she wrote. "As frustrated as I was, I should always choose to be respectful and take the high road. I am so sorry for my actions and will learn from this mistake."
@BrittMcHenry dont use "an intense & stressful time" to justify your entitled tantrum. @espn should be ashamed. #firebrittmchenry

— Racheal (@rachealg1023) April 17, 2015
Some defended the ESPN reporter, saying they could relate to the frustration one feels when a car is towed.
Oh, HOLD UP. The Britt McHenry vid is w predatory Advanced Towing?! I have experience w them & guarantee she had reason to be pissed.

— Mary Katharine Ham (@mkhammer) April 17, 2015
Britt probably ain't a super-nice person, but there's likely a reason the attendant's side of this conversation is cut out.

— Mary Katharine Ham (@mkhammer) April 17, 2015
ESPN did not immediately return FOX411's inquiry into whether or not the network would reconsider the length of McHenry's suspension.