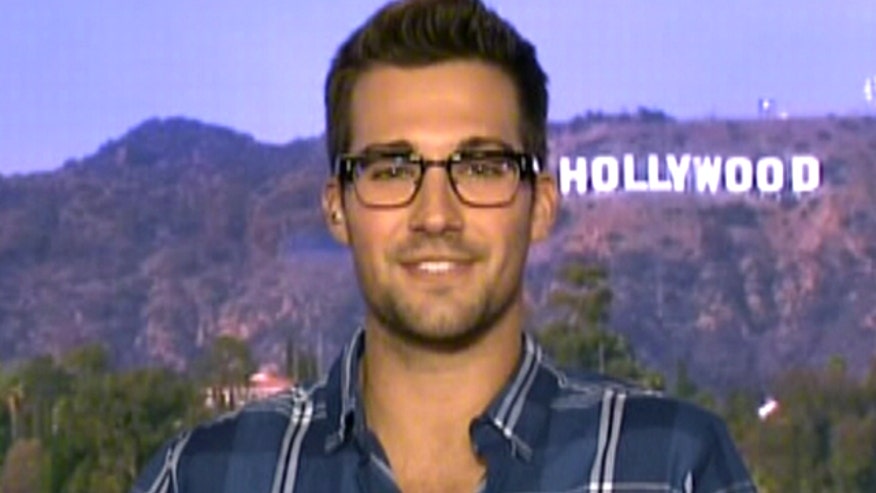 NEW YORK – From clean cut Nickelodeon teen sensation to sinister star of Lifetime's series "Seeds of Yesterday," James Maslow certainly has range. He joined us in the FOX411 studio to chat about what it takes to work as a leading man in Hollywood.
FOX411: Your role as Bart in "Seeds of Yesterday" has certainly removed you from your "Big Time Rush" persona. Has there been any backlash from your fans?
James Maslow: I've seen a couple tweets where fans are concerned that I'm not playing the happy-go-lucky character they might be used to, but I've actually seen an overwhelming amount of support that people were excited I was doing something so different, and they were excited to see me play a character that is a 180 degrees away from what I've done before. And frankly that's every actor's dream. No actor wants to play the same thing over and over.
FOX411: Many times female Disney and Nickelodeon stars will go super sexy to depart from their good gal image. Is it the same for guys?
Maslow: See, my good girl persona was already relatively sexy, so I didn't need to do the bikini-clad, lingerie shoots. Maybe next film. It's important to stretch yourself and to play different characters and I know that Lifetime has that clip with my shirt off, and you know that's fun, that great. It makes sense to a point because this was kind of the "Fifty Shades of Grey" of 20 years ago but it's not the entirety of the movie. It's definitely not why I chose this role.
FOX411: A quick Google search of your name reveals an entire newsfeed about your abs. Are you tired of being objectified, or do you dig it?
Maslow: Here's the thing, I'm a healthy person in general, but it's been a conscious choice to be in even better shape because I want to be able to continue to play a leading man, from young leading man, to the next ten, twenty years and I think being in shape is a very important part of that. Yeah, from the aesthetic approach, but I want to be able to do my own stunts and do the action fights, and all of that, so it's really necessary for my job.
FOX411: You also have an album coming out?
Maslow: I'm very excited. I've been in the studio just about every day writing when I'm not filming something, and it's been a long time coming but I'm happy to say the EP is really starting to take shape. No official dates, but I would like to I'll be releasing solo music sometime around the summer.
Break Time: How JLo's belly button changed Google
Fox News.com Reporter and FOX411 host Diana Falzone covers celebrity news and interviews some of today's top celebrities and newsmakers. You can follow her on Twitter @dianafalzone.