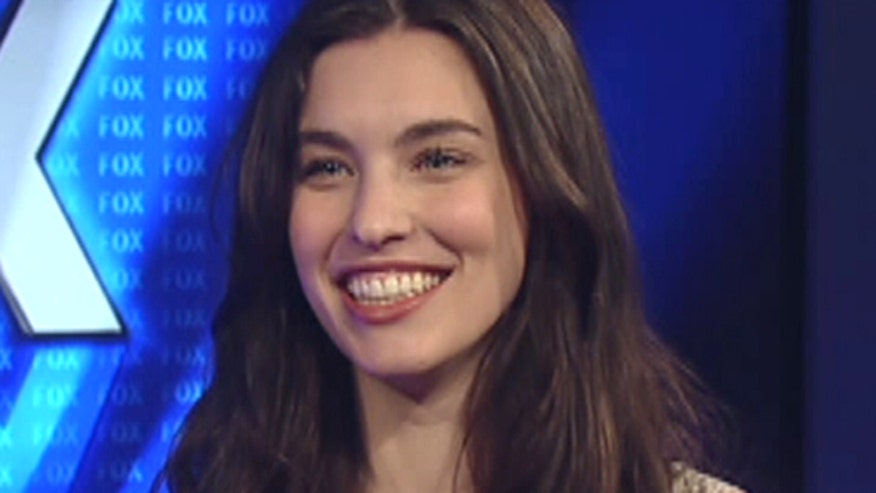 Country artist Rainey Qualley is giving fans a taste of her debut June EP with her first single "Turn Me On Like The Radio." The daughter of actress Andie MacDowell told us what it's like embarking on an entertainment career when you come from a famous family. She also spoke about advice what advice her mom has given her, working hard and she shared her musical influences.
FOX411: Was it always going to be country music for you, is it the music you were raised on, and where your influences are?
Rainey Qualley: Yeah, I've always loved country. I grew up for the most part in Ashville, North Carolina so it was definitely the music that was in my atmosphere. I especially love older country like Johnny Cash and Dolly Parton. I grew up going to Dollywood during the summers.
FOX411: You dance and act -- did you always sing as well?
Qualley: Oh yeah. I've been singing basically my whole life. My dad is a musician so I guess that was influential and I did choirs and stuff growing up and it's always what I wanted to do.
FOX411: With your father a musician, your mother Andie MacDowell an actress, were you always going to go into the entertainment industry did you think?
Qualley: I guess so yeah… I definitely always wanted to sing and, I don't know, I never really imagined doing anything else and it just was kind of like normal for our family.
FOX411: Is there any added pressure when you're trying to build your career and go into this business when you have a famous family?
Qualley: Well I think people kind of have a preconceived idea of who you are, what your life has been like, and I don't know if that's necessarily detrimental or positive. I think it probably depends on, the person's perspective. I mean, I think in some ways people kind of hold you to a different standard or assume that anything that you attain was just handed to you. But I don't know… I'm happy to be in the circumstance I'm in and I've worked hard and written all this music.
FOX411: It could also be a built-in support, what's a piece of advice your mom has given you as you embark on this chapter of your career?
Qualley: She always has encouraged my siblings and I to work hard and know what you want and work towards a goal and I think that's applicable in any field.
FOX411: Let's talk about this chapter of your career, tell me the story of when you first heard your song on the radio?
Qualley: So I've been on radio tour now for 6 weeks or something like that, which basically is just going to visit radio stations all over the country to play for them and meet them so that hopefully when my add date comes they'll can start playing my song. The very first radio station that I went to in Knoxville, I got to sing live on the radio and then they played my song. There's actually a video of myself hearing my song on the radio on my Instagram (laughs) so it was really cool.
FOX411: Performances, I saw you got to open for Willie Nelson in Nashville what was that like?
Qualley: Oh man, it was incredible. I got to open for him two nights at the Ryman which that venue in itself is so incredible to play and then being able to open for him, the entire experience was very surreal, looking back… I can't really believe I got to do that it was awesome.
FOX411: Is it true you didn't have a TV growing up, even though your mom's an actress?
Qualley: When I was really young we lived in Montana kind of out in the middle of nowhere and my brother and I would just play around outside and catch salamanders and go horseback riding and stuff. We had a TV, we didn't have cable so we would watch old movies, but once we moved to North Carolina it was more like normal, we had a TV.
Check out the video above for more of FOX411 Country's interview with Qualley and to see her performance.
Fox News Entertainment Producer Ashley Dvorkin covers celebrity news, red carpets, TV, music, and movies. Dvorkin, winner of the 2011 CMA Media Achievement Award, is also host of "Fox 411 Country," "Star Traveler," "Fox 411 Big Screen," and "Fox on Reddit."