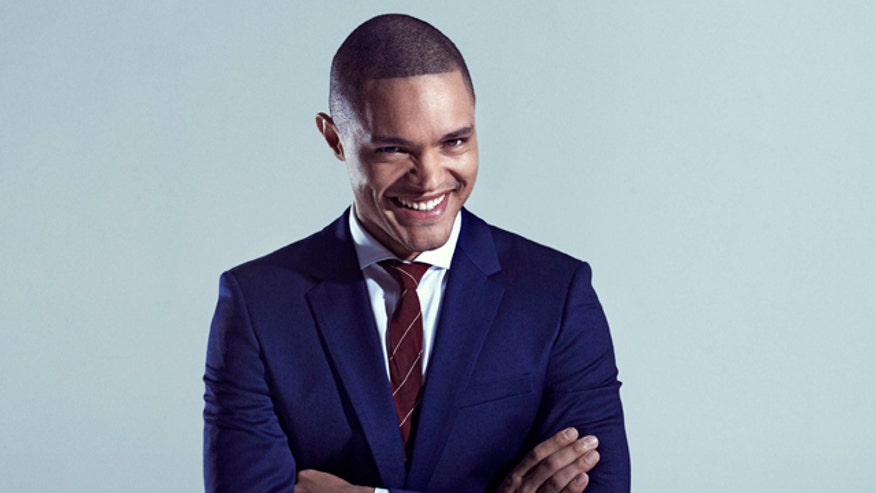 Well, that didn't take long.

Less than a day after Trevor Noah was named as the successor to Jon Stewart on "The Daily Show," some voices in the Twitterverse are calling for the network to oust him after several of his past tweets have resurfaced, in which he makes quips about Jews, Israel and women. Some have called his messages anti-Semitic, sexist and racist, but Comedy Central is standing behind their new star.

Screengrabs of the tweets, some of which date as far back as 2009, have circulated, causing "Daily Show" fans to question if the network made the right choice.
The guy seems to have a problem with Jews.... What's that called again? #DailyShow @Trevornoah pic.twitter.com/38HXohlUvc

— efredman (@efredman) March 31, 2015
Not cool @Trevornoah- funny is one thing, anti-semitism isn't. Sorry @TheDailyShow pic.twitter.com/d8XffRIo8W

— susan sherman petosa (@spetosa) March 31, 2015
Sad that some1 as ignorant as @TrevorNoah will host @TheDailyShow w/ comments like these. #Israel @StandWithUs pic.twitter.com/E5PlcMv7R3

— Dani Klein (@YeahThatsKosher) March 30, 2015
"Oh yeah the weekend. People are gonna get drunk & think that I'm sexy!" - fat chicks everywhere.

— Trevor Noah (@Trevornoah) October 14, 2011
In other messages, he specifically jokes about white women.
A hot white woman with ass is like a unicorn. Even if you do see one, you'll probably never get to ride it.

— Trevor Noah (@Trevornoah) November 28, 2011
@Trevornoah U should cease sexist & anti semitic 'humor' about jewish women & Israel. #comedyCentral

— Roseanne Barr (@therealroseanne) March 31, 2015
So @ComedyCentral 's new host is a #racist #AntiSemite #nice @Trevornoah

— Sally Konn (@Obomination1) March 31, 2015
Comedy Central stood up for the newly appointed "Daily Show" host.
"Like many comedians, Trevor Noah pushes boundaries; he is provocative and spares no one, himself included. To judge him or his comedy based on a handful of jokes is unfair. Trevor is a talented comedian with a bright future at Comedy Central," the network said in a statement sent to FOX411.
Several Twitter users also came to Noah's defense, saying the comments were meant as jokes, as he is a comedian.
Americans complaining that Trevor Noah is racist and sexist because of his jokes/tweets. You guys know his a comedian right? #TrevorNoah

— Mohammed Ameen (@Minz789) March 31, 2015
Angry Americans must just let @Trevornoah #Show them #Daily, the man is a great comedian, there is nothing racist about a joke #dailyshow

— ALLtHinGsBLacKBoxeD™ (@Nuborn_JimJacK) March 31, 2015
Others pointed out that his mother is a black South African and his father is white, of Swiss descent.
I don't know how a comedian who jokes about almost everything can be racist... Esp from a country that has an apartheid legacy #TrevorNoah

— Tshepo Tshabalala (@TshepototheT) March 31, 2015
People digging up old tweets of @Trevornoah and hating on him. He's racist?? Uhmm a multi-racial comedian is racist?? Smh ffs #TrevorNoah

— Miss Danita (@hybridchick) March 31, 2015
Abraham H. Foxman, the national director of the Anti-Defamation League, said the organization was not too bothered by Noah's comments.
"We understand that comedians often use humor to poke fun at stereotypes and to push the envelope of political correctness, and it seems that many if not most of the tweets sent by Trevor Noah over the years fall into those categories," Foxman said in a statement. "We hope he will not cross the line from legitimate satire into offensiveness with jokes calling up anti-Semitic stereotypes and misogyny. And we that hope that he and Comedy Central will make a conscious effort to ensure that 'The Daily Show' remains funny and irreverent without trafficking in bigoted jokes at the expense of Jews, other minorities and women."
Noah was named as Stewart's replacement on Monday. He's currently on a comedy tour that last took him to Dubai.
Stewart announced in February he would be leaving the show, which he has hosted since 1999.
Reps for Stewart and Noah did not return FOX411's requests for comment.