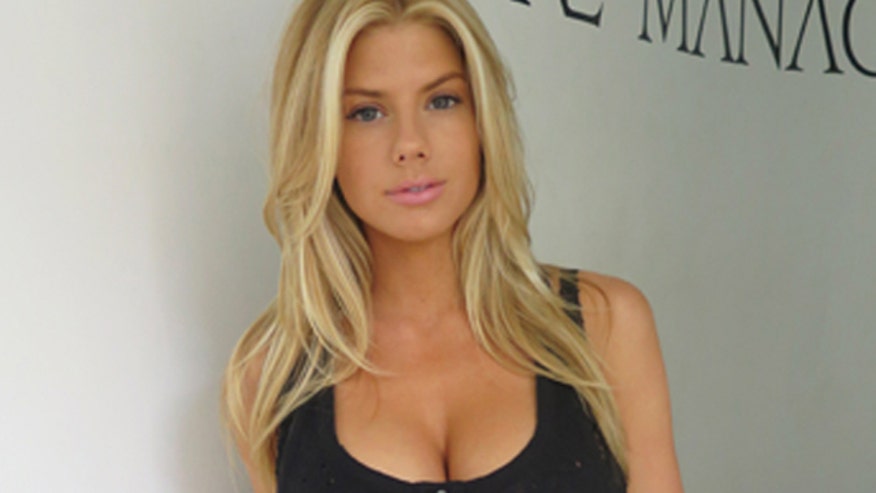 LOS ANGELES – Model Charlotte McKinney was shown crying and fleeing a "Dancing with the Stars" rehearsal session during Monday night's episode -- after being cruelly slammed by internet trolls.
But the busty Carl's Jr. burger babe, who flubbed her dance moves last week, then pulled off a solid week two dance and avoided elimination (musician Redfoo was sent packing instead).
And she gushed exclusively to FOX411 after the Monday's show, "I did great. I'm extremely happy with how it went."
Earlier, however, DWTS viewers saw McKinney having a meltdown after she went on social media and discovered critics calling her a "bad influence" and "disgusting," among other things.
McKinney moaned to the cameras, "People think because I'm pretty and blonde that I don't have feelings, but I do."
The model known for her ample assets sobbed, "I'm so stressed out," and had to take a break during her rehearsal with pro dance partner Keo Motsepe.
But after her Monday night beach-themed cha cha routine danced to Katy Perry's "California Gurls," the judges showed their love.
"That was really good," Carrie Ann Inaba raved, while Len Goodman called McKinney's dance "fun," and Bruno Tonioli said, "If you've got it, flaunt it."
She received a fine score of 26 out of 40.
McKinney admitted to FOX411 her performance was "a lot better than last week."
She said about the internet haters, "Normally I'd never read it but what the producers wanted to do was kind of go into that [and] talk about it, which was good for me to be more of a role model to anyone who's going through any of that."
And, when asked what she'd say to other pretty young girls who also might face online bullying, McKinney told FOX411, "Just keep your head up, stay positive, try not to listen to it and keep doing what you're doing and work your hardest."
She revealed after looking at the criticism, she was intent on "pushing myself a little more" on "DWTS."
Standing by her side, McKinney's dance partner Motsepe said, "I think she did good. I'm so proud of her. I think she just came out there and showed a different side of her so I'm really thrilled."
McKinney said the high-octane routine that featured a lot of props such as a surf board and dancing crabs, "was given to us [by producers] but when we heard it, we were really excited and I was looking forward to doing some different moves."
The model said that judges' comments "were excellent, so much better than last week. It's been amazing hearing them totally change from last week."

And after surviving her first "DWTS" elimination episode, McKinney said, "I really didn't know what to expect but I'm so glad and so grateful we're still here."
McKinney's "DWTS" co-star Rumer Willis told FOX411 she appreciated the model speaking up about internet haters.
Willis, the daughter of Hollywood superstars Bruce Willis and Demi Moore, said she'd also experienced social media bullying "my whole life and I think it's really cool that Charlotte was talking about that. I posted something on my Instagram about how hopefully people in the next two years can turn social media into a platform of support and love instead of negativity."
Meanwhile, McKinney is also staying strong with a special diet designed for the reality show: "It's not my normal diet with modeling. It's a little bit higher protein and stuff because I'm dancing so much but it's all natural, all organic, and good."
The starlet is looking forward to dancing a slower, more serious dance, the rumba, with Motsepe next week.
Break Time: Why is Taylor Swift buying up porn site domain names?