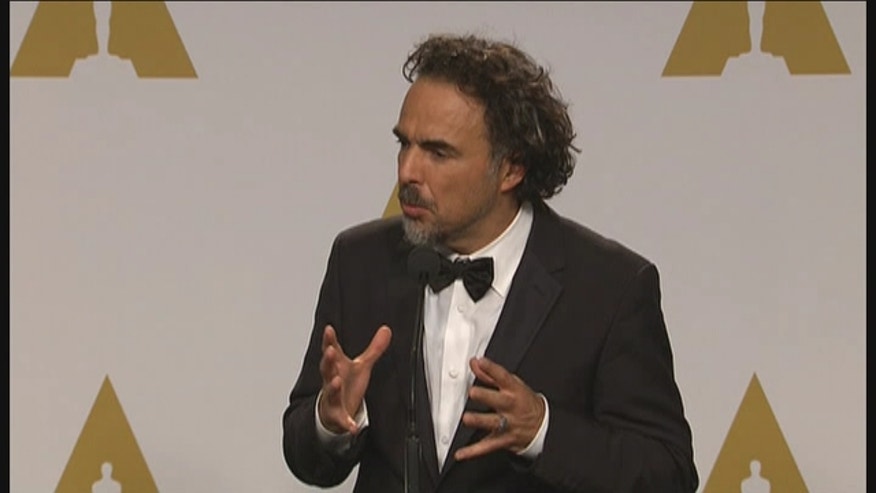 MEXICO CITY – Mexicans expressed pride in director Alejandro González Iñarritu's Academy Award wins for best film, "Birdman," and best director.
But many in Mexico expressed even more pride in his acceptance speech, which spoke to the plight of marginalized Mexicans in the United States and was interpreted as a swipe at a presidential administration stuck in scandal south of the border.
"I want to dedicate this award to my fellow Mexicans, the ones who live in Mexico. I pray that we can find and build the government that we deserve," Iñárritu said in his acceptance speech.
The comments again cast unflattering attention on the administration of President Enrique Peña Nieto, who was previously lauded abroad as a reformer and the man modernizing Mexico, but has been battered by scandals over the past six months.
Properties purchased by his family and finance minister from contractors have come under scrutiny and the president also came under attack for aloof handling of the case of 43 teacher trainees being kidnapped and probably killed.
Iñárritu's victory made it back-to-back wins Mexicans in the for best director category; Alfonso Cuarón took the top prize in 2014 for his film Gravity.
His comments made it the second time in as many years that a Mexican Oscar winner leveraged the award for political purposes: Cuarón published an open letter last spring posing questions for Peña Nieto on a recently approved agenda to open up the state-run oil industry – long a touchy topic in Mexico – to private players. (Peña Nieto sent several cabinet ministers to respond.)
Peña Nieto was quick to congratulate Iñárritu via Twitter, saying on Sunday night, "Alejandro González Iñárritu, what a deserved recognition of your work, dedication and talent. Congratulations! Mexico celebrates it along with you."
The president's Institutional Revolutionary Party (PRI) tweeted the next day, "Sharing Mexican pride, it's a fact that more than deserving it, we are building a better government. Congratulations #GonzalezInarritu."
The criticism comes as corruption and conflict of interest crisis come to the forefront and Congress this week is expected to create a commission to get graft out of government and the political system. It's a sensitive issue for the PRI, which traditionally sold itself as more effective in government than in being squeaky clean, but seen its poll numbers crash in recent surveys.
"I was kind of expecting more from Iñárritu yesterday, but what he said was enough to drive priístas angry," says Rodolfo Soriano, a sociologist in Mexico City.
"It was a hard hit on Peña," Soriano says, adding, "Iñarritu" – whose brother is a senior official in the Mexican Football Federation – "has closer links to the Mexican political elite than Cuarón."
Mexicans took to social media with Iñárritu's comments, although a few grumbled about actor Sean Penn, cracking, "Who gave this son of a bitch his green card?" in announcing Iñárritu as an Oscar winner. (ElDeforma, Mexico's version of The Onion, ran a spoof story, saying, "Mexico declares national mourning and a day off for Sean Penn's racist joke.")
Most were scornful of Peña Nieto and the PRI, though, and the hash tag: #ElGobiernQueMerecemos, or TheGovernmentWeDeserve, trended on Twitter after the awards show.
"I feel represented in the discourse of Alejandro González Iñárritu in the Oscars because, like the majority of Mexicans, I'm not satisfied with the government that we have," Sergio Aguayo, professor at the Colegio de México, told MVS Radio. "What he did was give us a voice in the worldwide forum.
The speech, with its focus also on Mexican migrants, Aguayo said, sent "the double message: Mexico is badly governed and Hispanic migrants are doing well."
ElDeforma – quickly becoming popular for fake stories seen as surreal and outlandish, but not out of the realm of possibility in Mexico – published a spoof letter from the president, criticizing Iñárritu, but leading, "First of all, I want to congratulate you because Batman is a great movie …"
Like us on Facebook
Follow us on Twitter & Instagram
David Agren is a freelance reporter living in Mexico City.
Like us on Facebook