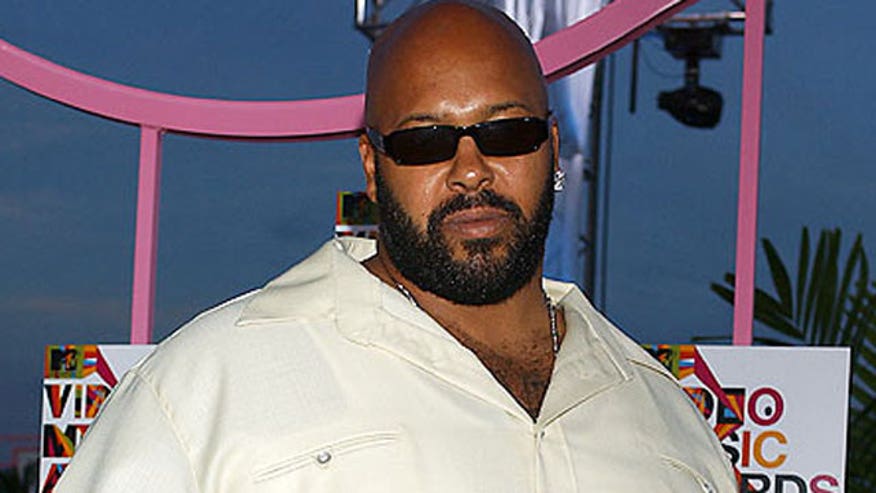 LOS ANGELES – Although Marion "Suge" Knight has had numerous brushes with the law over the years, its a two-count felony conviction from 1997 that could lead to life behind bars if he's found guilty in his current case.
Eighteen years ago, the Death Row Records co-founder was convicted of two counts of felony assault with a firearm, making him a third-strike candidate under California law. Enacted in 1994, the state's Three Strikes sentencing law requires "a defendant convicted of any new felony, having suffered one prior conviction of a serious felony to be sentenced to state prison for twice the term otherwise provided for the crime. If the defendant was convicted of any felony with two or more prior strikes, the law mandated a state prison term of at least 25 years to life."
Knight's lawyer David Kenner acknowledged that the current allegations against him puts him in jeopardy of three strikes, but told FOX411 following Tuesday's hearing that he is confident his client will be found not guilty of all charges.
"(Suge) may attempt to plea bargain both open matters simultaneously to avoid the third strike designation," noted lawyer Elizabeth Kase, an attorney Partner at Abrams Fensterman. "He also may roll the dice and go to trial on both matters if the district attorney is not willing to deal."
Knight also faces separate charges for an alleged robbery involving a camera theft in Beverly Hills last year. He pleaded not guilty.
Kenner did not respond to a request for further comment.
The music mogul was arrested early Friday morning after turning himself into authorities following an encounter at Tam's Burgers in Compton the previous afternoon. Knight allegedly ran over two men outside the restaurant, one of which – his friend Terry Carter – was killed. Actor Cle "Bone" Sloan was also hit and remains in hospital having sustained foot and head injuries, according to his attorney.
Knight was charged with one count of murder and another of attempted murder. His $2 million bail was revoked after a court commissioner sided with law enforcement officials that he was both a potential flight risk and could intimate potential witnesses.
"The District Attorney would love to put Knight away, however his case will depend on the willingness of the witnesses to testify," attorney Leo Terrell of CleartheCourt.com told FOX411. "Expect to hear about witness intimidation. That is why Knight was refused bail. Knight will obtain the best experts money can buy."
The hip hop entrepreneur appeared at the hearing early Tuesday, straight-faced with little emotion after pleading not guilty. Minutes after the hearing concluded, he was rushed to a nearby hospital after suffering from a panic attack. He has since been released back into custody.
Hollie McKay has been a FoxNews.com staff reporter since 2007. She has reported extensively from the Middle East on the rise and fall of terrorist groups such as ISIS in Iraq. Follow her on twitter at @holliesmckay