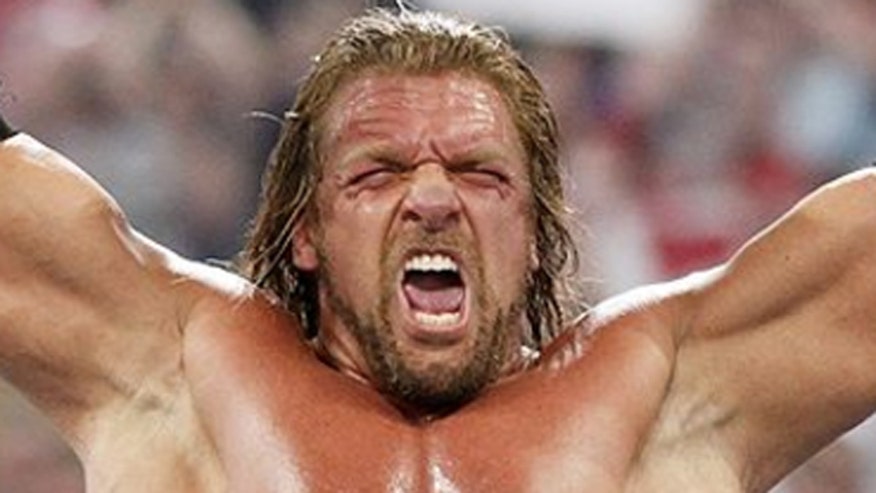 One of the World Wrestling Entertainment's meanest wrestlers, Triple H, has been reduced to the status of cuddly uncle by a young fan.

Wrestling fan Chris Olds was at the Monday Night Raw show in Dallas, Texas, when he witnessed a remarkable exchange between the tough wrestler and a little boy, which caused Triple H to break character.

The boy was a fan of wrestling's number one good guy, John Cena, who was taking on Seth Rollins, The Big Show and Kane, with the evil Triple H and Stephanie McMahon looking on ringside.

Triple H is a veteran of the WWE and has played one of the fiercest bad guys in the company for almost 20 years. He's also the real-life Executive Vice President responsible for much of the day-to-day running of the company — so it pays to look after the fans.

Olds told news.com.au that the kid snuck up to the front for a closer look, right behind where Triple H was seated.

Soon after, the boy burst into tears.

"Turns out kid was crying — either scared by Triple H looking at him or from what was going on with Cena," the witness told news.com.au. "Next thing you know, Triple H stands up and walks up to him to give him the small hug, brush his hair."
McMahon also broke character to console the youngster while the match continued in the background.

For the record, the boy's hero Cena won the match.

"After the match, [ring announcer] Lilian Garcia congratulated him on Cena's win and they gave him a stack of shirts, wristbands, bandannas, a hat, which he brought back to his dad sitting in front of me," Olds said.
The boy was later invited backstage.

Click here from more from news.com.au.