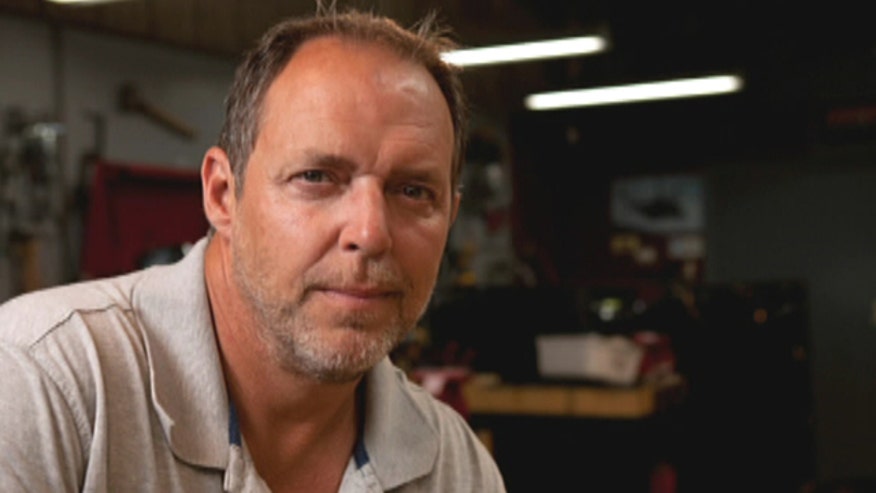 Will Hayden's adult daughter and "Sons of Guns" costar Stephanie Hayden Ford went on "Dr. Phil" and, in an episode that aired Thursday, claimed that her father had been sexually inappropriate with her when she was 12, and sexually assaulted her cousin and friend.
Ford also claimed her father sexually abused her 12-year-old sister.
Hayden is currently in jail, charged with aggravated rape of a juvenile, forcible rape and indecent behavior with a juvenile.
FOX411 looked at one of Hayden's social media accounts, which had not been taken down. It paints a picture of a doting father who frequently wrote about and shared photos of both of his daughters—more frequently of the younger daughter.
In one photo—a selfie—a shirtless Hayden is cramped into the frame kissing his younger daughter's cheek. The caption reads "[Daughter] just took this one… insist that it be shared" with a smiling emoji.
One commenter on the photo wrote about Hayden's role as a dedicated father, to which he replied, "That's all I am bro. Rest of it is just stuff I do to make a living."
On Aug. 14, Hayden addressed the scandal on the site, thanking his friends for their support.
"Please know how much your support means to us. All of our lives have been redefined by a single parting shot. So far our entire focus has been protecting and trying to shield [daughter] from physical danger and as much of the vileness as possible… Y'all know my baby, you know what an incredible young lady she is… This thing now though, this hurt her. Like nothing I've ever seen. It terrified me. But she has true strength, she's been raised to use her brains and form her own opinion. She's definitely got a couple opinions about this attack on her family and the person who did it. Keep my baby in your prayers. She's my heart."
Recent mentions of his wife, Rachel Hayden, are scarce on his account. If it wasn't for one photo of her posted on Aug. 23, it would be hard to tell on social media that the ex "Sons of Guns" star was married.
On Aug. 26, after Will Hayden's second arrest, Rachel Hayden spoke to WBRZ2 and defended her husband.
"I would have known," she said. "I do believe that she would have told me."
Police documents state a 12-year-old girl accuses Hayden of raping almost daily – beginning when she was 11 years old.
"I don't know how long these allegations go back," Rachel Hayden added, "but I know it definitely was not happening when we were together."
According to police documents, the minor said she was most recently abused during July 2014.
Hayden was first arrested on Aug. 9 for molestation of a juvenile and aggravated crimes against nature. He posted his $150,000 bond and was released. He was arrested again two weeks later for aggravated rape and more charges were later added.
When he was first arrested, Hayden's lawyer told FOX411 an ex-employee seeking revenge made untrue allegations against the reality star. After his second arrest, the lawyer told FOX411 that unsubstantiated claims were piling up against Hayden and he cautioned critics to "slow down and see what happens."
Ford told Dr. Phil McGraw the rape accusations came after a personal assistant caught an undressed Hayden passionately kissing his younger daughter on the couch.
Will Hayden's lawyer and a rep for Ford did not immediately return FOX411's request for comment for this story.