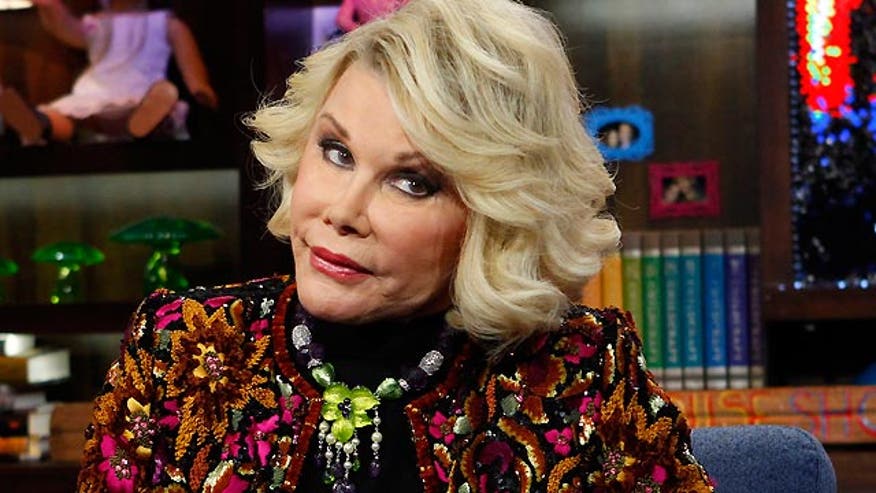 NEW YORK – The clinic where Joan Rivers underwent a throat procedure last week is under fire from the comedian's fans, and under investigation by the New York Dept. of Health.
"The state department of health is investigating the matter," a rep for the Dept. of Health told FOX411told us. "It's a full investigation of the matter."
As part of the investigation, Dept. of Health officials have been on-site at Yorkville Endoscopy, the clinic Rivers' was visiting when she went into cardiac arrest on Aug. 28. The review being conducted will include interviews with the physicians and staff there, according to the State Health Department.
TMZ reports the clinic has hired additional security after receiving death threats from Rivers' fans.
"If Joan dies, so will you," one of the threats read according to TMZ. "I hope you people die, you killed an icon."
Rivers, 81, was rushed away from the clinic at 201 E. 93rd Street by emergency medical personally when she stopped breathing during a throat procedure. She was then on life support at Mount Sinai Hospital and her daughter said she died on Thursday.
Yorkville Endoscopy first opened in 2013 and we're told it was inspected at that time. There have been no previous complaints or violations at the facility.
When contacted by FOX411 for comment, Yorkville Endoscopy repeatedly hung up the phone. Our emails to the clinic have not been returned.
The NYC Medical Examiner's office also told FOX411 they are investigating the cause and manner of Rivers' death. An initial examination was inconclusive, and an official said "further studies" are needed to determine Rivers' exact cause of death.
WATCH: Joan Rivers: 1933-2014