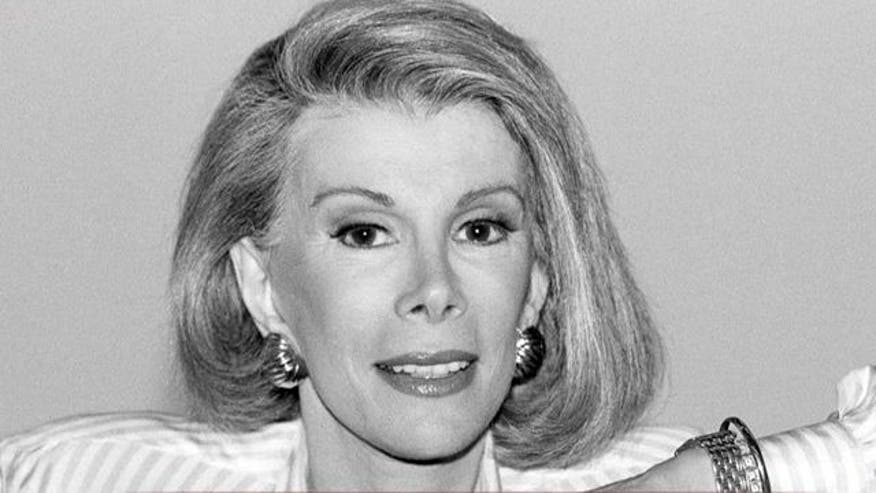 Celebrities took to social media to share their reactions to news of the death of comedian Joan Rivers, who died Thursday at age 81.
The comedian who crashed the male-dominated realm of late-night talk shows and turned Hollywood red carpets into danger zones for badly dressed celebrities touched the lives of many in show business.
Here is how the stars remembered Joan. 
RIP GODDESS: Hail Hail, a GENIUS has vacated this realm: Joan Rivers has died.

— Roseanne Barr (@therealroseanne) September 4, 2014
And in addition to being a trailblazer the great Joan always smelled good.Thanks for taking my challenge. I still owe you one. RIP x,sj

— Sarah Jessica Parker (@SJP) September 4, 2014
My heart is torn in half. She wasn't done. #Joan http://t.co/XH87wAT4Mb

— Sarah Silverman (@SarahKSilverman) September 4, 2014
.@Joan_Rivers was a dear & wonderful friend who I've known for 45yrs. Great guest, pal, comedian & mother. We will never see her likes again

— Larry King (@kingsthings) September 4, 2014
we lost a great one in @Joan_Rivers - she was funny all the way to the end

— Jimmy Kimmel (@jimmykimmel) September 4, 2014
My friend Joan Rivers has passed away once again to quote Billy Crystal... There are no words. Bon Voyage Joan

— Whoopi Goldberg (@WhoopiGoldberg) September 4, 2014
We've lost a true legend today and an amazing woman - a pioneer. She opened up the arena for women in comedy....

— Sharon Osbourne (@MrsSOsbourne) September 4, 2014
Rest in peace @Joan_Rivers. Thank you for changing my life. I will miss you so much.

— George Kotsiopoulos (@GeorgeKotsi) September 4, 2014
A legend, a friend, a mentor, an icon, and wildly funny. One of a kind. RIP #JoanRivers @joan_rivers pic.twitter.com/jnAC5G4AQo

— Kathy Griffin (@kathygriffin) September 4, 2014
RIP Joan Rivers. A force of nature.

— Seth Meyers (@sethmeyers) September 4, 2014
RIP to the woman who believed in my show when very few did. I love you @Joan_Rivers. Stay strong @MelRivers. http://t.co/dbJwUowDQ3

— Wendy Williams (@WendyWilliams) September 4, 2014
We'd fuss but love was there. Cant believe ur gone. Love to your family. You were iconic and trailblazing. RIP Joan pic.twitter.com/hV7fH03gfw

— Lindsay Lohan (@lindsaylohan) September 4, 2014
I am saddened to learn of the passing of @Joan_Rivers. A comedic legend. Thoughts going out to Melissa and her family.

— William Shatner (@WilliamShatner) September 4, 2014
So funny and irrepressible. Rest in peace, Joan Rivers.

— bob saget (@bobsaget) September 4, 2014
RIP Joan Rivers. You made us laugh and happy.

— Kristin Chenoweth (@KChenoweth) September 4, 2014
Saddened that Joan Rivers has passed. What a legacy she leaves. Praying for Melissa, Cooper & their family

— Candace Cameron Bure (@candacecbure) September 4, 2014
Joan Rivers has died. What a sad ending to a brilliant and tragi-comic life; one of the bravest, and funniest of all.

— Bette Midler (@BetteMidler) September 4, 2014
Watching Joan Rivers do standup at age 81 was incredible: athletic, jaw-dropping, terrifying, essential. It never stopped. Neither will she.

— Lena Dunham (@lenadunham) September 4, 2014
I am so sorry at the passing of Joan Rivers. She was a friend. She inspired me. She made me laugh since I was a kid, and I loved her so much

— Cyndi Lauper (@cyndilauper) September 4, 2014
The world will miss your incredible wit @Joan_Rivers. I sure loved getting to know you. Rest in Peace you hilarious soul.

— Brad Paisley (@BradPaisley) September 4, 2014
It was an honor to know you @Joan_Rivers you will always be an entertainment icon R.I.P. pic.twitter.com/AZeMJoozKY

— kevin jonas (@kevinjonas) September 4, 2014
Rivers was hospitalized last week after she went into cardiac arrest at a Manhattan doctor's office following a routine procedure. Daughter Melissa Rivers said she died at Mount Sinai Hospital in New York, surrounded by family and close friends.
WATCH: Joan Rivers: 1933-2014
The Associated Press contributed to this report.