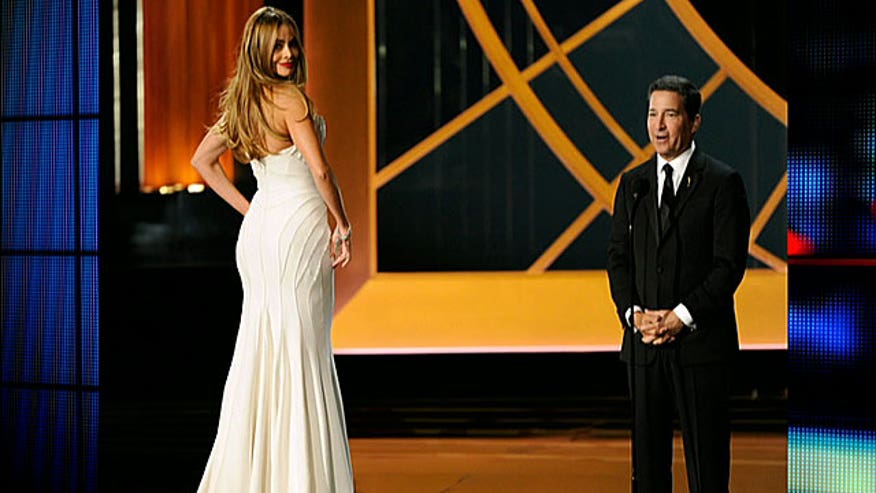 Sofia Vergara responded to critics who called her Emmys skit sexist.
As the TV Academy's chairman, Bruce Rosenblum, was touting the organization's community works and educational efforts, he led Vergara to a platform and turned on a switch that had the "Modern Family" actress rotating as he spoke.
A smiling Vergara vamped and preened in her white gown as Rosenblum rattled on.
"It's absolutely the opposite," the actress fought back. "It means that somebody can be hot and also be funny and make fun of herself and work and enjoy and make money."
The blowback on social media was immediate, with several comments suggesting Vergara was being objectified and the bit was sexist.
PHOTOS: Hot Celebs in Swimsuits over 40
I love @SofiaVergara but did anyone find that schtick somewhat offensive?

— Katie Couric (@katiecouric) August 26, 2014
No obvious exploitation of women going on here. #Emmys2014 #Emmys #SofiaVergara

— Vanessa Marquez (@vanessathought) August 26, 2014
Woah this sofia vergara bit is totally sexist way to go academy #TheEmmys2014

— e u n i c a (@loveeunica) August 26, 2014
Vergara also said she knows who started the negative comments.
"I know who she was, has no sense of humor and should lighten up a little bit," she said.
The Associated Press contributed to this report.
MORE: Jimmy Fallon steals Stephen Colbert's Emmys acceptance speech