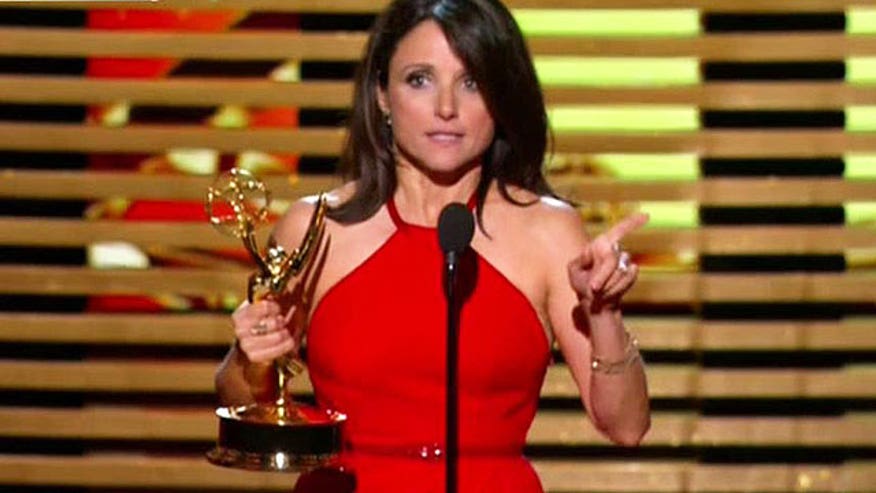 Julia-Louis Dreyfus got more than just a statuette when she won Outstanding Lead Actress in a Comedy Series at the 2014 Emmy Awards at the Nokia Theatre in Los Angeles.
Dreyfus was met with a big smooch from one-time "Seinfeld" guest star Bryan Cranston as she walked on stage to receive her award.
Before he was Walter White on "Breaking Bad," Cranston played Dreyfus' love interest, dentist Tim Whatley. The actors had joked about his "Seinfeld" appearance moments earlier when Dreyfus said she did not recall his stint.
PHOTOS: Sexy and wild Emmys PDA
"You look so much like the actor in 'Seinfeld' that was the dentist, that I dated, Tim Whatley, who I dated who converted to Judaism for the jokes," said Dreyfus after noting his resemblance to her character Elaine's love interest.
"That was me," replied Cranston. "We had a kissing scene."
After the passionate kiss, a woozy Dreyfus admitted, "Yeah, he was on 'Seinfeld.'"
"I'm a mess, I'm a wreck, I don't have anything prepared," she stammered.
WATCH: Four4Four: 2014 Emmy shockers and scandals