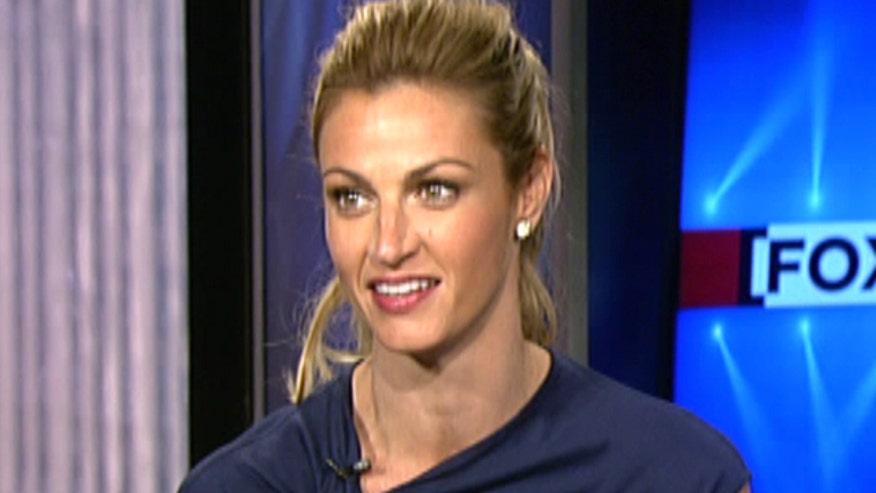 NEW YORK – Erin Andrews is the female version of Ryan Seacrest. From her sideline reporting duties for Fox Sports, to co-hosting the upcoming season of "Dancing with the Stars," and now, prepping football fans for tailgate season – Andrews is everywhere.
But the 36-year-old broadcaster's rise has put her under some serious scrutiny, particularly when some criticized her for taking over for sideline reporter Pam Oliver on FOX's coverage of the NFL.
Many took to social media to go after Andrews, questioning her credibility and experience for the coveted job once held by a 20-year veteran sports journalist.
"I joke around about the University of Florida and social media, but this wasn't in the curriculum," Andrews told FOX411. "This wasn't in the textbook. It's something you have to learn to deal with. Nothing is a shock anymore."
As closely as Andrews' career has been watched, her personal life has been similarly analyzed, especially her relationship with LA Kings defenseman Jarrett Stoll, who Andrews has been dating the past two years. The couple became even more high-profile when Stoll's team won this year's Stanley Cup.
"I don't think I'm doing anything wrong in my personal life, but now everybody is a judge and now with the Internet and social media, everybody has something to say," she said. "I have a fantastic support system with my family, my boyfriend and my friend, and they're just like, 'block that all out.'"
Andrews also is having a blast on her new gig at "DWTS," and while she says host Tom Bergeron and crew put on a live family-friendly show, what happens during the dress rehearsals is far from suitable to air.
"Our dress rehearsals need to find their way on to cable television," the DWTS co-host said. "They're dirty. They're nasty. They're funny. They would never be allowed on broadcast TV, and it's some of the best material ever."
But before more celebrities start breaking their ankles, the NFL season kicks off Sept. 4, so Andrews is teaming up with Florida Orange Juice to share some healthy tailgating tips. And while the broadcaster is a fan of the pre-game party scene, she says her job keeps her sidelined from the fun, so she has to watch from afar.
"We get to walk by everything really quickly and smell everything coming off everybody's grill," she said. " One of the big reasons I teamed up with Florida Orange Juice is a) I'm from Florida and b) they came up with a concept how to incorporate 100 percent Florida Orange juice into your tailgate."
And while she's no Julia Child herself, she has no problem sharing some simple recipes for a couple of tasty orange juice-based beverages.
"Who doesn't love a good mimosa in the morning, or who doesn't love a good screwdriver?" she said. "As long as you're responsible."
Indeed.
Fox News.com Reporter and FOX411 host Diana Falzone covers celebrity news and interviews some of today's top celebrities and newsmakers. You can follow her on Twitter @dianafalzone.