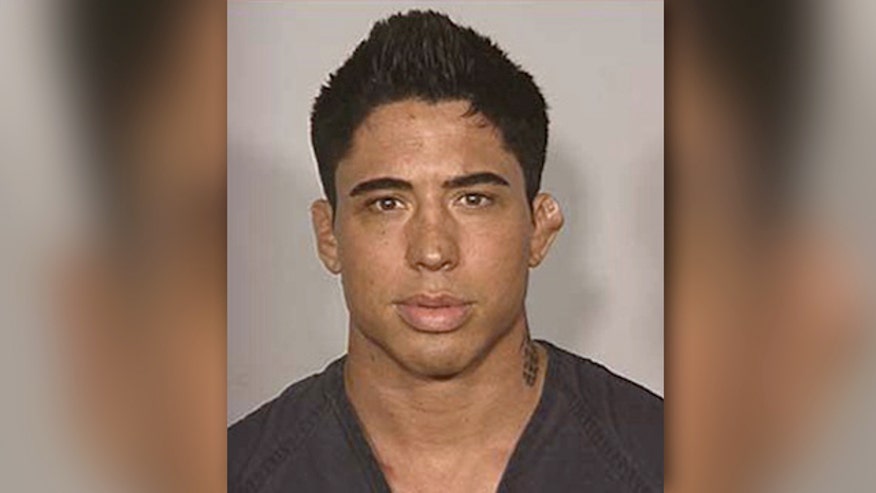 Fugitive mixed martial arts fighter War Machine has been arrested in California on suspicion of beating his ex-girlfriend so severely in Las Vegas that she feared for her life.
Police have released the mugshot of the 32-year-old fighter and former porn actor, whose birth name is Jon Koppenhaver, after he was captured in the Los Angeles suburb of Simi Valley, News.com.au reports.
The MMA fighter sitting in the hotel room with a pizza and a small amount of cash," TMZ reported and had been fully co-operating with police.
He currently remains behind bars.
Authorities issued a warrant for Koppenhaver on Monday, the same day his ex-girlfriend, adult film actor Christy Mack, posted graphic photos of her swollen, beaten face online.
Mack said in a statement that Koppenhaver showed up unannounced at her house on August 8, found her and a friend unarmed, and beat the friend without uttering a word.
Koppenhaver then sent the friend away and turned to Mack, forcing her to shower before knocking out some of her teeth and breaking bones in her face, the statement said.
She wrote that she feared for her life as he sawed off her hair with a dull knife.
"He made me undress and shower in front of him, then dragged me out and beat my face. I have no recollection of how many times I was hit, I just know my injuries that resulted from my beating. My injuries include 18 broken bones around my eyes, my nose is broken in 2 places, I am missing teeth and several more are broken," she said. "After some time, the knife broke off of the handle and continued to threaten me with the blade. I believed I was going to die. He has beaten me many times before, but never this badly. He took my phone and cancelled all of my plans for the following week to make sure no one would worry about my whereabouts.
"I ran out my back door, shutting it behind me so the dogs didn't run inside to tip him off. I hoped the fence to the golf course behind my house and ran to a neighboring house. Naked and afraid he would catch me, I kept running through the neighborhood knocking on doors. Finally one answered and I was brought to the hospital and treated for my injuries," she said.
Koppenhaver had been abusive in the past and broke up with her in May, she said.
"After many months of fear and pressure to keep this man happy, I feel that I can no longer put myself in this situation," Mack wrote.
Koppenhaver tweeted a response to the attack while he was on the run.
"@ChristyMack I love you and hope you're okay. I came him (sic) early to surprise you and help you set up for your convention. I can't believe what I found and can't believe what happened," he wrote. "I'm so heart broken ... in all ways. I will always love you."
Koppenhaver did not return a message on Tuesday seeking comment about Mack's account, and it's not clear whether he has an attorney.