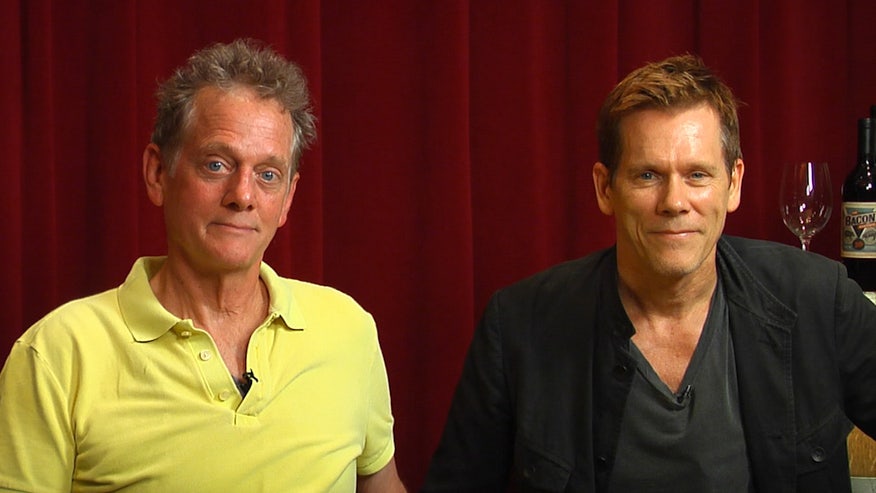 Here's what's going on out there:
Former "Dancing With the Stars" host Brooke Burke-Charvet, 42, Instagrammed a bikini photo showcasing her trendy backside body art (below) on Tuesday. Or perhaps she simply has a number of shiny, symmetrical back moles that she needs to get checked out. Either way, looking good, Brooke!
You might be aware that Kevin and Michael Bacon perform as an acoustic duo called the Bacon Brothers, but were you aware that they don't suck? (Kevin's words, not ours.) Check out the video above for our exclusive interview with the duo, as well as a preview of their new album "36¢" — and be sure to stay tuned for a bonus Bacon Brothers outtake at the end.
E! News asked "Teenage Mutant Ninja Turtles" actress Megan Fox about her favorite on-screen kissing partner, and without hesitation, she immediately answered "Shia LaBeouf." Now, we don't know how hubby Brian Austin Green feels, but if Megan Fox were our wife, we'd prefer if she at least pretended to mull it over, or responded in literally any other way.
On Tuesday, Kim Kardashian went on a Twitter rant about not being able to lose the last few pounds she amassed during her pregnancy, lamenting that her hips and butt "are huge now." Yes, Kim. They're huge now, and only now.
Miley Cyrus got herself a new tattoo reading "Love yer brain" (seen below), which is the name of a song by the Flaming Lips, and also a permanent, tragic reminder of what repeated ecstasy use can do to one's cognitive thinking skills.
On last Friday's episode of "Live With Kelly and Michael," actress Maggie Gyllenhaal explained that she only recently discovered her real name is Margalit. We can kind of relate, actually. One time we thought we were eating Cheez-Its, but they were actually Cheese Nips. You can imagine our horror.
Jeff Goldblum's participated in a "Jurassic Park"-themed wedding photo at the request of his fiance's friend. Considering that he's loaned his talents to far worse dinosaur-driven projects in the past — namely, "The Lost World" — today's news doesn't really come as a surprise.
On Tuesday, LeAnn Rimes debuted a music video for her new dance single "Nothin' Better to Do" (below), and also announced that her entire dance album is currently No. 1 on the iTunes Dance Chart. Funny, if we didn't know any better, we'd swear LeAnn was trying to get us to dance.
After running into a fan in Central Park, Taylor Swift gave the girl $90 after learning that it was her birthday, and that she and her friends were planning to celebrate at Chipotle. (Quick note to self: If we ever run into Taylor Swift in Central Park, tell her we're celebrating our birthday at the Four Seasons.)
Kirsten Dunst told Red magazine that she's been "in baby mode" as of late, meaning that she's totally ready to have a baby, and not that she's been acting like a petulant toddler, as we (rather wrongly) first assumed.
Speaking of babies, Olivia Wilde said her son Otis peed on her dress during her for Glamour. But you really can't blame Otis, seeing as Wilde was feeding the bejesus out of him during the entire shoot and strangers kept flashing cameras in his face. Who can hold their bladder at a time like that?
And finally, today marks (what would've been) Lucille Ball's 103rd birthday. Though, if she had actually lived this long, she's probably lie about her age, just like she lied to us about her natural hair color for all those years.