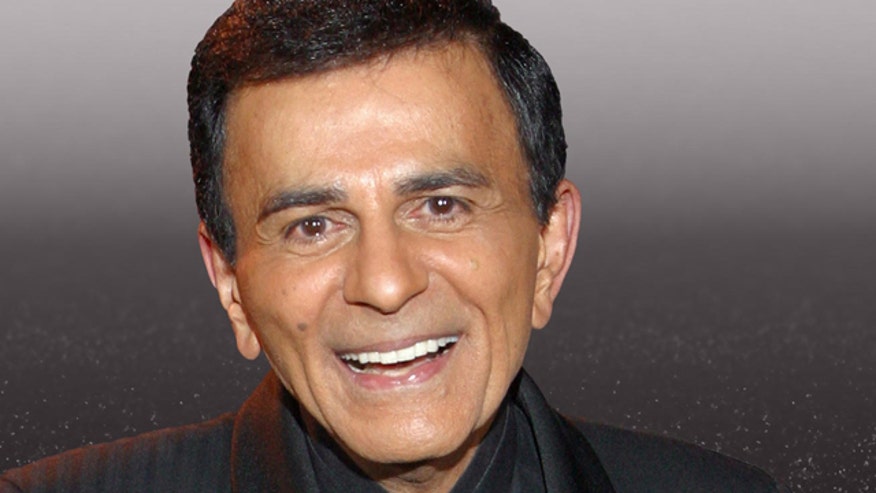 LOS ANGELES – More than a month after Casey's Kasem's June 15 death, the family drama over the deceased radio personality continues, and the whereabouts of his body remain unknown to his children.
A rep for his daughter Kerri Kasem told FOX411 that she still does not know the condition or location of her father's body, and that it is all now in the hands of investigators at the Santa Monica Police Department.
"The children really don't know where he is or if he has been [disposed of] or not," Kerri Kasem's spokesperson told FOX411. "But they know this is not what they wanted."
The rep said Kasem's children are "90 percent" sure their father's body is in a funeral home in Montreal. However, they would "not be surprised" if the body has already been cremated.

The children are adamant that their father has no connection to Montreal and to their knowledge, had never been there before. And in another bizarre twist, they think Jean could have a boyfriend who lives in Montreal, and that is the reason he was allegedly taken there.
An administrative manager for the Gaffney Funeral Home in Tacoma, Washington state confirmed to press that the radio personality's body has been removed. On July 16, a Washington state judge granted Kerri Kasem's request to stop Casey's body from being taken from the home or cremated as she sought to have an autopsy conducted to investigate suspicions of elderly abuse. However, the court order was not given to the home until the day after the body was removed.
But without a body, and given that fact that Jean, 60, is alleged to have relocated her husband's remains prior to the court order, it may prove very difficult for the children to present a viable case in court for elder abuse.
"Without an autopsy, the children will be unable to prove their case. Jean has the right to Casey's remains. She is not going to cooperate with the children. The children only hope is the DA," attorney Leo Terrell, of CleartheCourt.com, explained.
A representative for Kerri Kasem noted that the current dilemma won't stop her from pursuing the claims against Jean.
"You still have the medical records and of course what the doctors and care providers in WA and CA have seen during this time," said her spokesperson.
Even before he died, the former "American Top 40" radio host was the subject of a bitter legal dispute between his second wife Jean and his three children – Kerri, Julie and Mike – from his first marriage. The children claimed that Jean prevented them from visiting their ailing father during his final weeks.
Both sides have accused each other of fighting to secure Kasem's $80 million fortune and Jean has alleged that she has been repeatedly blackmailed by her husband's children. But kerri Kasem's rep said she isn't going after her father's estate, unless...
"The only way they would is if there was proof Jean manipulated his will or made him sign someone when he was incapacitated," the rep said.
The funeral home declined to comment any further on the case and lawyers for Kerri and Jean Kasem, as well as the Santa Monica Police Department, did not respond to a request for comment.
Follow @holliesmckay on Twitter.
Kelly Reinke contributed to this report
Hollie McKay has been a FoxNews.com staff reporter since 2007. She has reported extensively from the Middle East on the rise and fall of terrorist groups such as ISIS in Iraq. Follow her on twitter at @holliesmckay