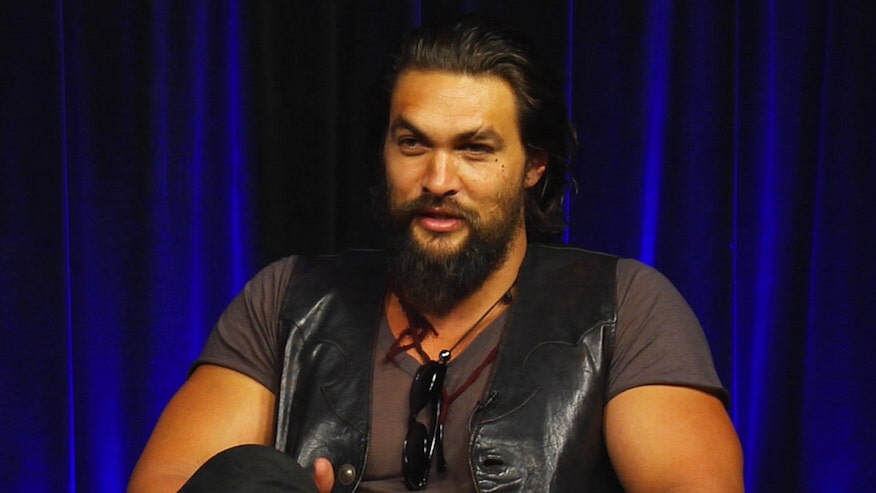 Here's what's on our radar:
On Thursday, Megan Fox stopped by San Diego's Comic-Con to promote "Teenage Mutant Ninja Turtles" in a crop-top/short-skirt combo (below), because apparently, having a bunch of teenaged, mutant, ninja turtles in your movie isn't enough to get the fanboys excited anymore.
We've been obsessed with Jason Momoa ever since he first appeared on "Game of Thrones," but now that his character is (spoiler alert!) dead, Momoa has been working on a new project called "Road to Paloma." Check out a preview of the gritty film above, along with our interview with the director/star himself.
Less than three weeks after telling the Daily Mail that she maintains her weight by cutting out fast food, Paris Hilton has returned to shill another burger in a new Carl's Jr. television ad (below). So either Paris is a hypocrite, or Carl's Jr. Thickburgers are really, really good.
The trailer for "50 Shades of Grey" was released on Thursday, and it promises to be the same kind of slow, semi-erotic film that you can probably watch on Cinemax tonight at around 2 a.m.
Nicki Minaj has released the cover art for her new single "Anaconda," and it's basically just a photo of Minaj wearing the tiniest thong you can possibly imagine. In fact, imagine the tiniest thong you think you can imagine, and then divide that in half. Now you're getting close.
Charisma Carpenter, formerly of "Buffy the Vampire Slayer," celebrated her 44th birthday by posting a nude photo to Twitter. And we don't mean "nude" as in technically nude, but with a carefully placed shadow or arm covering her chest. We mean nude as in Rihanna nude. (That link is probably NSFW.)
Taylor Swift took a jaunt through New York's Central Park on Thursday, where she managed to find the only part of the park where a drum circle or hipster picnic was not actively forming.
Much like their characters in "Game of Thrones," actors Kit Harrington and Rose Leslie are rumored to be an item. Most "GoT" fans probably already noticed some real-life chemistry between the two, even if it was hidden under their respective layers of filth.
Rumer Willis took part in an elaborate bikini-clad spoof of Ariana Grande's song "Problem" (preview below), which was obviously an excuse for Rumer to parade around in her swimwear. Either that, or she's gearing up to be this generation's Weird Al.
Kelsey Grammer and his wife Kayte welcomed their first child — and his sixth — on Tuesday. And he named the boy after himself, because honestly, he's got to be running out of names at this point.
A bunch of Elvis' personal items are going up for bid at the first-ever "Auction at Graceland" in August. The lot includes his library card, his jewelry and a few of his cars, all of which are likely stained with peanut butter.
Daniel Radcliffe didn't show up at San Diego Comic-Con on Thursday because of a problem with his visa, which means that his fans will just have to hold their burning, insufferable questions about Harry Potter's owls and cloaks for another time.
And finally, TV Land is planning to bring back "Candid Camera" with Mayim Bialik as the new host, perhaps because she's was the only candidate who could match the raw sex appeal of Allen Funt.