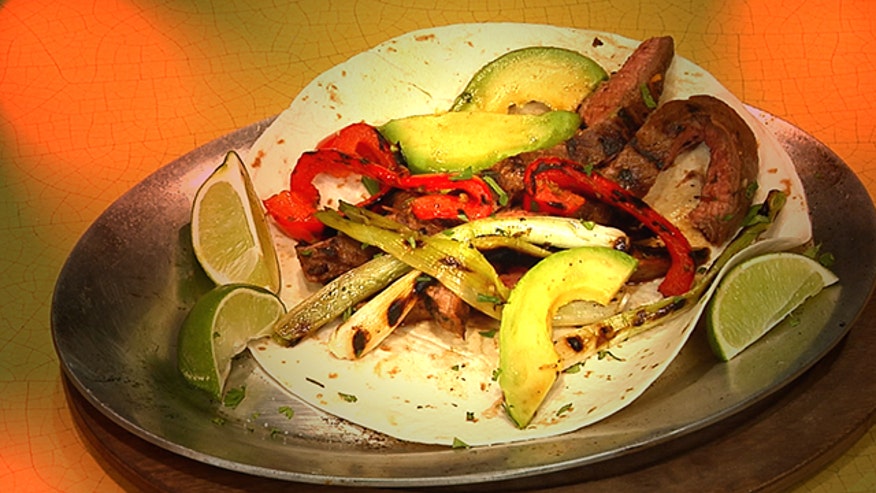 Here's what's on our radar:
Former "Smash" actress Katharine McPhee wore a see-through crop top and skirt (below) while promoting her new CBS drama "Scorpion" in L.A., because by god, she really wants people to watch one of her shows this time around.
Always on the lookout for a great grill recipe? Then look no further than Ingrid Hoffmann's spicy Drunken Fajitas made with tequila-marinated steak. Check out the video above to see how she puts it all together.
David Beckham got "slimed" with golden gunk at the Kids Choice Sports Awards on Thursday, because that is how children now honor their favorite athletes. Those cruel, cruel children.
"Orange is the New Black" actor Jason Biggs has already managed to make, and apologize for, an insensitive tweet in which he made a joke about Thursday's Malaysia Airlines tragedy. But really, anybody following Biggs on Twitter should have seen this coming after watching him defile a pie in his teens.
George Clooney, Channing Tatum and Jonah Hill have all reportedly signed on to star in the Coen Brothers' next film, where they will presumably pursue their three-way bromance and completely ignore co-stars Ralph Fiennes and Tilda Swinton.
Elle McPherson, 50, shared a bikini pic on Twitter this past Tuesday (below), in which she looks just as good as she ever did, and makes us feel just as bad about our bodies as we ever have.
Super greens... After super swim. pic.twitter.com/pl7HbKOFDe

— Elle Macpherson (@ellemacpherson) July 15, 2014
Broadway, television and film actress Elaine Stritch, who affronted our eardrums with her loveable, abrasive characters, passed away on Thursday at her home in Michigan. She was 89.
Biologists in Puerto Rico have named a new species of water mite after Jennifer Lopez because they reportedly enjoy her music, and not, as as you were thinking, because this mite has a huge round butt. (It does.)
TMZ has obtained footage of Tim McGraw slapping a female fan in the head during a performance on Sunday (below), reportedly because she reached out and accidentally tore his jeans. We'd hate to see what McGraw does when his dry cleaner mistakenly starches his shirts.
"Full House" actress Candace Cameron-Bure is taking a lot of (unwarranted) heat from her Facebook followers for attempting a five-day cleanse in which she'll consume mostly shakes and veggies, because her Facebook fans apparently disapprove of any meal plan that doesn't involve actively shoving steak into your face.
Little Prince George is expected to vacation at his family's Scottish estate this summer, where he'll play on the beach and generally enjoy being away from the hustle and bustle of London, where he's never worked a day in his tiny life.
Emma Stone told David Letterman that she's sometimes haunted by the friendly ghost of her late grandfather, who leaves her quarters from beyond the grave. But that's nothing, because our grandfather could make quarters magically appear behind our ears! And he stole our noses!
And finally, Dita Von Teese was photographed leaving her Pilates session with perfect hair, perfect makeup, and nary a drop of sweat anywhere on her person. Naturally, we're convinced the reporter mistakenly wrote "Pilates" instead of "biscottis," because we can understand looking that good after a delicious biscotti session. After Pilates, not so much.