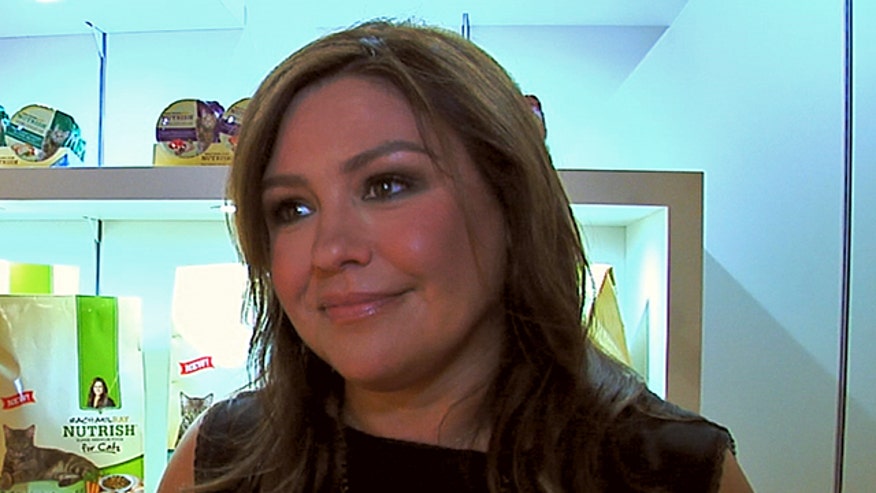 Here's what everybody's talking about:
Taylor Swift looked especially tall and leggy in New York City on Friday afternoon (below). If we didn't know better, we'd swear she's actually just two children standing on each other's shoulders, with one of the kids' heads poking out of her t-shirt and the other's legs sprouting from those high-waisted shorts.
Rachael Ray is best known for whipping up mouthwatering human meals, but she's equally skilled at keeping pets healthy. Watch the video above to hear how she manages that (and how you can) too.
Christopher Walken will be portraying Captain Hook in NBC's upcoming musical production of "Peter Pan." Viewers should now expect Captain Hook to adopt a halted speech pattern and perform a delightful softshoe sequence.
"Jersey Shore" star JWoww gave birth to a daughter on Sunday. Rather futilely, she named the girl Meilani Alexandra, even though the child will probably change her name to MPlantzz around the age of 16.
According to the Daily Mirror, Jay Z and Beyonce are soliciting the services of a marriage counselor while on tour. If that doesn't work, they'll presumably invite Solange to tag along and beat some sense into them.
Tommy Ramone, the last original member and drummer for the Ramones, died on Friday at his home in Queens, NY. He was 65.
Gisele Bündchen helped to unveil the World Cup at the start of Sunday's final game, but didn't actually present the trophy to the winning team (Germany) after the match. So essentially, she was the Barker's Beauty of this year's World Cup.
Speaking of the World Cup, Shakira brought her son Milan (below) up to the stage with her while performing at the closing ceremony, and just like his mother, little Milan has some enviable cheeks. His are on his face, though.
Ann Curry is rumored to be one of NBC's choices to join "The View," but if you ask us, she leaves something to be desired. Namely, the lung power needed to rudely yell over a co-host while spouting crude opinions.
Sofia Vergara, on the other hand, possesses the exact kind of lung power we're talking about, as she probably demonstrated during her recent birthday dinner with new boyfriend Joe Manganiello (below).
Dita Von Teese was spotted out and about with her somewhat normal-looking boyfriend over the weekend, though that's not to say they don't make a good couple. Besides, maybe he wears corsets and pasties in his off-hours. You never know.
After skipping out on Kim Kardashian and Kanye West's wedding in Italy, Kim's stepbrother Brody Jenner attended the wedding of Kim's ex-boyfriend Reggie Bush, possibly because Bush assured Brody that he wouldn't be forced to relieve himself inside a pitch-black tower of filthy toilets.
And finally, Taco Bell will soon be offering a new line of low-calorie, high-protein options on its Cantina Power Menu. The promotion begins on July 18th, giving you only a scant few days days to load up crunchwraps and chalupas before detoxing with their similar, presumably less tasty crunchwraps and chalupas.