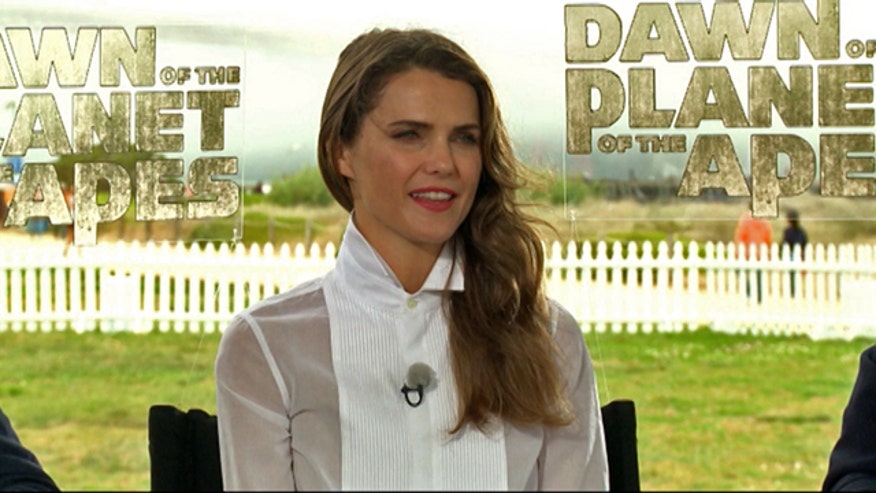 Is it just us, or does Taylor Swift look pretty drunk in these photos where she's returning home to her NY apartment in the wee hours of Wednesday morning? Heck, she even appears to have misplaced her pants sometime during the night!
"Dawn of the Planet of the Apes" is already getting rave reviews, but if you're not excited just yet, watch the video above to hear why Gary Oldman, Keri Russell and Jason Clarke loved about their new film.
On Wednesday at Paris Fashion Week, Kim Kardashian attended the Valentino fashion show alongside Valentino Garavani himself. But does anybody else find two particular elements of her below photo particularly eye-catching? Yeah, us too. That guy's face is just as orange as that woman's hat!
Robin Thicke's latest album "Paula" is barely selling any copies. Guess that's what happens when Robin Thicke tailors an entire album to a specific person who doesn't particularly care for Robin Thicke right now.
According to People magazine, Eva Mendes is seven months pregnant with Ryan Gosling's child. It's a surprising move for the couple, especially after seeing how their offspring turned out in "Place Beyond the Pines." (If you haven't seen the movie, it's "horrible." He turns out horrible.)
Paris Hilton told the Daily Mail that she recently dropped five pounds by cutting out fast food entirely. That must've been especially tough for Hilton, seeing as she has a well-documented love of eating ginormous Carl's Jr. hamburgers and washing cars.
Dick Jones, the actor who voiced Pinocchio in 1940 (at the age of 10!) died on Monday night after suffering a fall in his Los Angeles home. He was 87.
There's a "Baywatch" movie currently in the works starring David Hasselhoff and Pamela Anderson, but it's not going to be called "Baywatch" due to legal issues. But don't worry, you can still find it right where you expect to: in the bargain bin at your local dollar store, probably within a few months.
Following Justin Bieber's egg-throwing incident in January, a judge has sentenced the singer to pay $80,900 in restitution to his neighbors. But if it makes Justin feel any better, we can somewhat relate to his situation: One time, we paid $19 for eggs at a fancy brunch place!
The nominees for the 66th Primetime Emmy Awards were announced on Thursday morning, and shockingly, the Television Academy has failed to recognize the special achievements in baby slings seen on NBC's "Guys With Kids."
Prince William has remarked that bathtime with son George is "quite painful." So despite sharing Winston Churchill's looks, little George most certainly doesn't share the former Prime Minister's affinity for baths.
The blossoming courtship between Zac Efron and Michelle Rodriguez is continuing in Italy, where the two have been spotted kissing, laughing, riding horses on the beach, and — presumably in the near future — opening a quaint bed and breakfast together.
In the most Robert-Downey-Jr. way possible, "Iron Man" actor Robert Downey Jr. annouced news that he and wife Susan Downey are expecting a baby girl this November:
Yo. Susan. Me. Baby. Girl. November. Scorpio?

— Robert Downey Jr (@RobertDowneyJr) July 9, 2014
And finally, the world's tallest waterslide has opened in Kansas City, Kansas. But technically, it will only be a "waterslide" for the first few riders; subsequent thrill-seekers should expect that water to contain a fair percentage of sweat and hastily ejected bodily fluids.