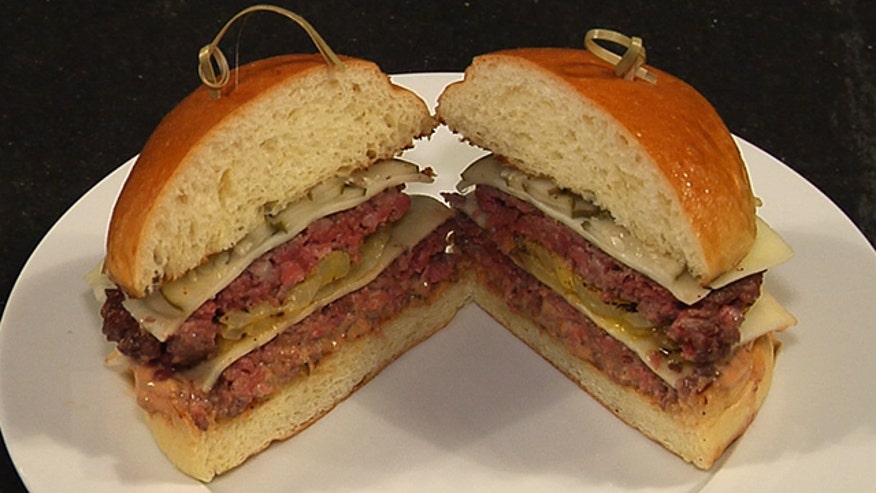 LeAnn Rimes partook in an odd bikini photoshoot with a bunch of Christmassy elves in Malibu. Kinda makes you nostalgic for the old days, when aunts used to bake Christmas cookies in their swimwear, doesn't it?
Firing up the grill this Fourth? Then you'd better watch the video above to see how "Top Chef" champion Richard Blais makes the perfect classic-style cheeseburger. (You are planning on making your own burger sauce, aren't you?)
The unoccupied tour buses of Styx and Foreigner somehow went up in flames on Wednesday morning, in what has to be a clear sign from God to give it up already, Styx and Foreigner.
A group of Christian musicians from Missouri are suing Katy Perry for ripping off their song, claiming that her "Dark Horse" sounds a lot like their rap song "Joyful Noise." Listen to "Joyful Noise" (below) to judge for yourself, and if you need to hear "Dark Horse" for comparison, just hum the song that's been stuck in your head since February.
Bob Hastings, perhaps best known for portraying Lieutenant Carpenter in the '60s sitcom "McHale's Navy," died on Monday after a long battle with prostate cancer. He was 89.
Jessica Alba told British GQ that she perfers to flaunt her best feature, which she thinks is her stomach, and never really tries to showcase her worst feature, which is her legs. So naturally, she posed for the mag in a few one-piece swimsuits that completely hid her abs and put her legs on display.
On Wednesday, Rihanna posted a topless photo to Instagram, though her back was to the camera. And she was holding her infant niece. So, sorry to say, it's not really that provocative at all.
In an interview with Marie Claire UK, Katherine Heigl claims the direction of her career took her by surprise, and that she ultimately felt betrayed by it. Us too, Heigl. Us too.
Lindsay Lohan is suing the makers of "Grand Theft Auto V" for allegedly using her likeness without permission. But in their defense, that character could have been parodying any number of vapid Hollywood stalets! How arrogant for Lohan to assume it was her vapid characteristics they ripped off!
"America's Got Talent" host Nick Cannon hinted in a TMZ interview (and on Instagram) that he'll be portraying Richard Pryor in an upcoming film. And we have to admit, if we're judging strictly by their facial hair, Cannon is perfect for the part. But in terms of charisma, humor and acting ability, no — no he isn't.
Warner Bros. released the first official image of Henry Cavill from the upcoming film "Batman v. Superman: Dawn of Justice," and yep, that looks exactly like the same Superman who saved us from evil Kryptonians a few years back.
The director of "The Notebook," Nick Cassavetes, told Vh1 that Ryan Gosling once wanted to kick Rachel McAdams off the set and bring in another actress to finish a scene. But presumably because Gosling's biggest credits at that point were "Young Hercules" and "Murder By Numbers," his wish was not granted.
Jewel announced on her website that she and husband Ty Murray are splitting up after 6 years of marriage (and 16 years as a couple). We guess those foolish games really were tearing her apart.
And finally, a liquor store in Tokyo is offering to purchase second-hand booze in order to resell it to customers at a discounted rate. (We can probably guess what you're getting for your next birthday, Japanese dads of Tokyo!)