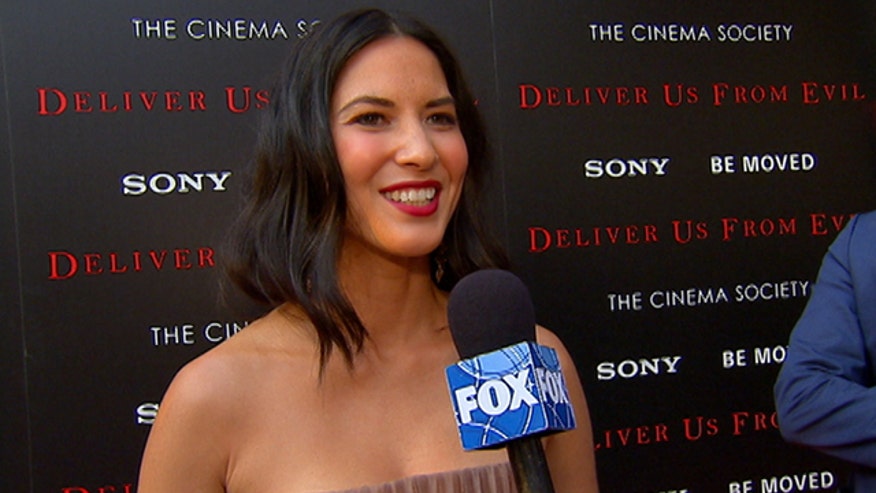 Here's everything that's going down:
Kim Kardashian decided to forgo a bra during a recent lunch in the Hamptons, instead opting to squeeze her massive chest into a too-tight tank top that left nothing — save for maybe an underarm mole — to the imagination.
In what appears to be an attempt to woo back all the 14-year-old boys who idolized her in the '90s, Carmen Electra posed in an array of revealing swimwear for Galore magazine and revealed that she's double-jointed at the hips.
Do you love a good scare? Then you're really going to love "Deliver Us From Evil," opening in theaters on July 2. In the video above, actress Olivia Munn and producer Jerry Bruckheimer explain why the film is so scary, while stars Eric Bana and Joel McHale basically tease each other like an old married couple.
Beyoncé Knowles topped Forbes' annual Celebrity 100 List, which ranks the stars based on money and fame, and not on who has the sparkliest dress, as we naturally assumed after seeing Beyonce's name at the top.
Following his arrest during a recent Broadway show, Shia LaBeouf has reportedly entered rehab, presumably to deal with his alcoholism, his out-of-control behavior, and his general jerkiness. Oh hey, look! Here's some of that now:
After being shuffled around and ultimately canceled by NBC, Yahoo has decided to bring back "Community" for an online sixth season. And boy, if you thought the show's ratings were low before, just you wait!
Robert Downey Jr's 20-year-old son, Indio Downey, was arrested on Sunday for possession of cocaine. Downey Jr. released a statement lamenting his family's predisposition for addiction, though not the mounds and mounds of cash that make it possible.
Prince Harry danced to Katy Perry's "Firework" with a couple of Chilean children during a recent charitable visit to the Fundacion Amigos de Jesus. But you can tell he was a bit self-conscious, because he wasn't dancing to "Firework" with nearly the same abandon as he would in his bathroom mirror.
Speaking of Harry, he also told a Chilean radio personality that his nephew George resembles "a young Winston Churchill." Fortunately for Harry, George is still too young to realize how awful of a comparison that was.
As if the purple/gray hair and half-mohawk weren't enough to draw attention to Kelly Osbourne's cranium, she now has the word "stories" tattooed on the side of her head (below).
NBC is planning to document Miley Cyrus' Bangerz tour a two-hour televised special that will likely gloss over the bondage stuff and hot dog straddling.
Last Friday, NBC announced that Carrie Underwood will continue to be the voice of "Sunday Night Football" for the 2014 season, meaning that your father will continue to keep asking you who that pretty blonde lady is.
Blake Lively told Hello magazine that she's really shy, then immediately proceeded to tell them about how she applies a deep-conditioning mask to achieve perfect hair. Modesty stops right above the eyebrows, apparently.
According to Us Weekly, former Playboy model Kendra Wilkinson flushed her wedding ring down the toilet when she found out about her husband's affair with a transgendered model. Consider this your yearly bonus, Calabasas-area septic waste removal specialists!
And finally, a woman in Maryland found a bag of weed inside her takeout bag from Sonic. Unfortunately for the Sonic employee who misplaced the marijuana, this customer was one of the few regulars who doesn't show up to the restaurant already high, and she notified the police.