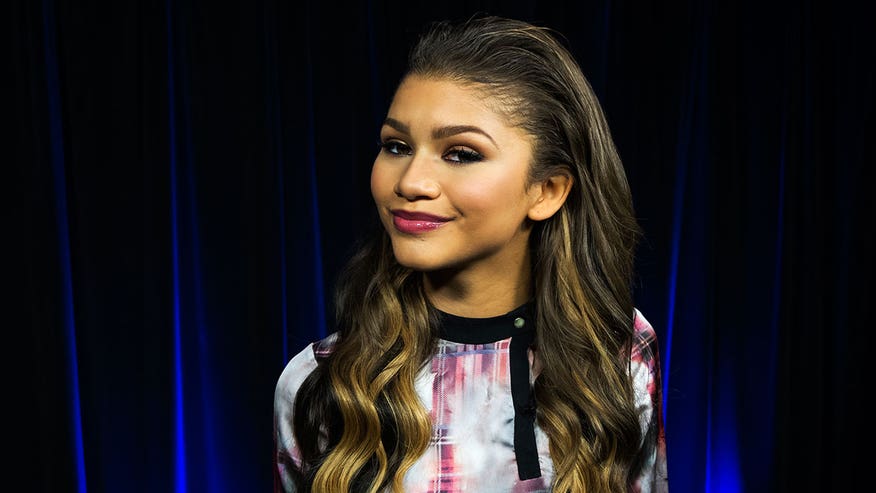 Here's what's happening, people:
Maxim Hot 100 topper (and Victoria's Secret model) Candice Swanepoel uploaded a beachy bikini photo to Instagram on Wednesday (below), thereby fulfilling her duties as Maxim's reigning "hottest woman."
Actress, singer and dancer Zendaya is poised to take the entertainment world by storm. Hear what the Disney Channel starlet has planned for her new movie "Zapped" in the video above, and stay tuned to find out a little more about her top musical influences.
"Transformers: Age of Extinction" starlet Nicola Peltz wore a lacy see-through dress to an after-party following the premiere of the film. Dare we say almost nobody has looked as classy with their underwear on full display.
Miranda Lambert and Carrie Underwood play jailbirds in the new music video for their song "Somethin' Bad." Looks like the law is finally cracking down on their excessive displays of sassiness:
In a surprising change of pace for Rihanna, the 26-year-old singer posed completely clothed for Harper's Bazaar Arabia. But we expect her to do some nude work soon, if only to restore some balance to nature.
Ahead of his wedding to Amal Alamuddin, George Clooney has been granted special protection laws by a council in Lake Como, Italy, which will prevent anyone from stopping on the road or water outside his villa. And though it's not yet a law, Clooney would probably prefer if any residents within a five-mile radius would refrain from sneezing too loudly, as well.
As part of her tour demands, Katy Perry reportedly specifies that none of the venue's staff speak to her before a performance, as it "angers her before the show." (It's unclear if American Sign Language is permitted.)
NBC is rumored to be offering Pippa Middleton a correspondent position at the "Today" show, but presumably only after she demonstrates her worthiness by going shot-for-shot in a Zinfandel drinking challenge against Kathie Lee Gifford.
Kim Kardashian is sporting a blonde wig now (below), because she apparently wants a "fresh look" for the new season of "Keeping Up With the Kardashians." But we're not sure how fresh it'll be, seeing as Bruce has basically been sporting the same 'do for years.
In a recent interview, Willie Nelson urged subscribers to his Teapot Party movement to get out and vote for candidates who advocate for marijuana. "If it's the day to go vote, make sure you go vote before you burn one down. Don't get high and forget to vote," he somehow remembered to remind his followers.
53-year-old comedian Kathy Griffin went completely nude for a recent photoshoot in which she's also pictured licking the blade of a knife. Perhaps it's a commentary on the unfortunate omnipresence of plastic surgery in Hollywood. But wait, there's a few shots where she's just skinny-dipping knifeless, so never mind!
Tom Hanks and Meg Ryan might be reuniting in Ryan's directorial debut, "Ithaca," where hopefully, they can bring some of that romantic chemistry from "Sleepless In Seattle" across the country to Ithaca, of all places.
The refurbishing of Prince William and Kate Middleton's home has already cost somewhere in the range of $6.5 to $7.2 million, because heaven forbid these royals live in a palace where only eight of the nine bathrooms is in pristine condition.
And finally, E! Online seems to think "Guardians of the Galaxy" actress Zoe Saldana, 36, is trying to hide a pregnancy with her new baggy overalls, but let's not rule out the most obvious possiblity: She's ditched her acting career to pursue a lifelong dream of plumbing.