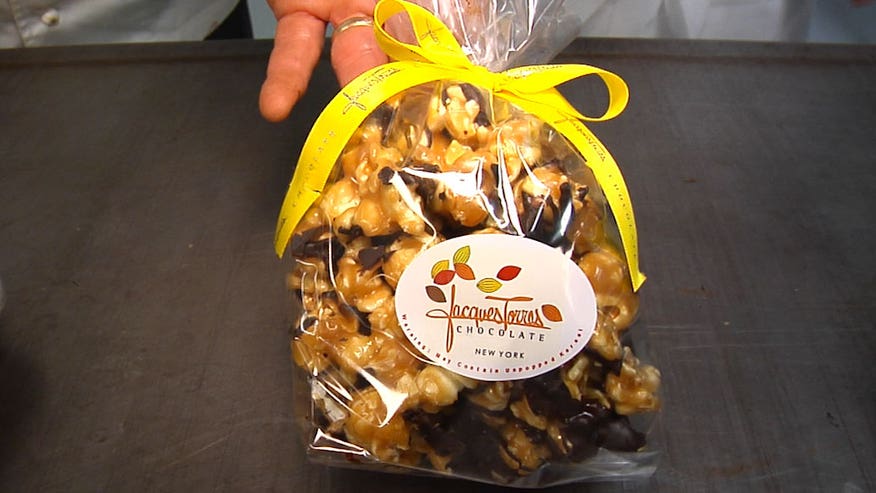 Here's everything you need to know:
Selena Gomez posted a bikini selfie to Instagram on Monday (below), describing herself as brave in the caption. Yes, you read that right: A supple 21-year-old who likely has multiple personal trainers described herself as brave for sharing a carefully selected bikini photo from her phone.
You know what goes good with gossip? Popcorn. Not just any popcorn, mind you, but Jacques Torres' chocolate caramel popcorn — widely regarded the most sinful of the popcorns. Learn how to whip up a batch in the video above, hosted by none other than Torres himself.
To compensate for Harrison Ford's absence following his on-set injury, the producers of "Star Wars" have reportedly given "Inside Llewyn Davis" actor Oscar Isaac a larger role. Surely, we can't be the only ones who suspect Oscar Isaac of masterminding this whole thing.
As part of his community service for assaulting a photographer in July 2013, Kanye West is giving seminars on fashion at the L.A. Trade Technical College. So to recap, Kanye West's punishment is that he must perform the same duties as an esteemed, respected member of the high-fashion community. Way to go, criminal justice system!
The trailer for Brad Pitt's WWII drama "Fury" was released on Tuesday, and much like his previous WWII film "Inglorious Basterds," he'll once again be commanding a rag-tag group of soldiers from underneath another modern-day haircut. Here's the preview:
Esteemed actor Eli Wallach, of such films as "The Misfits," "The Magnificent 7" and "The Good, The Bad and The Ugly" passed away on Tuesday. He was 98.
Ryan Seacrest will be hosting a CBS special called "Fashion Rocks" in September, making him one of the few TV personalities to hold concurrent deals with all four major networks. For those of us without cable, his frequent sign-off of "Seacrest out!" will now be nothing more than an empty promise.
Katy Perry took home a souvenir from her recent visit to the White House: a selfie with Vice President Joe Biden (below). We would've rather had this sweet engraved coffee mug, but whatever. To each their own.
A transsexual model named Ava Sabrina London is claiming to have had a sexual encounter with former NFL player Hank Baskett, who is also the husband of former Playboy model Kendra Wilkinson. If it's true, Kendra's ex-boyfriend, the 88-year-old Hugh Hefner, will probably not be the guy who goes and beats up Baskett for his indiscretions.
As recounted in a new memoir by poker afficionado Molly Bloom, Ben Affleck once described Jennifer Lopez's butt as "nice" when asked by one of their fellow players. (Whoa! Ben! Save that kind of vulgar, disgusting language for the locker room, will ya? There are ladies present!)
The Wimbledon Tennis Championships began earlier this week, and we're guessing that more than a few of the players were thrown off by the presence of the fearsome Captain Hugh Jackman who swashbuckled his way into the seats:
Actor, writer, student, and experimental filmmaker James Franco got pantsed by a drag queen during a New York City charity event. Or, as Franco might call it, "Sunday."
"Spring Breakers" actress Vanessa Hudgens Instagrammed some bikini photos from Hawaii on Monday and Tuesday, proving that she can still Spring Break with the best of 'em, if she so chooses.
On Tuesday's "Howard Stern Show," Maroon 5 singer Adam Levine denied ever having slept with Lindsay Lohan, despite her claim to the contrary. Turns out Lohan isn't the bastion of truth we all assumed she was.
And finally, June 25 marks the 10-year anniversary of the Ryan Gosling/Rachel McAdams film "The Notebook." ABC News celebrated the milestone by listing seven unrealistic ideals of romance presented in the movie, but don't let those deter you from your dreams of (spoiler alert!) dying silently beside your lifelong love in a lumpy nursing home bed.