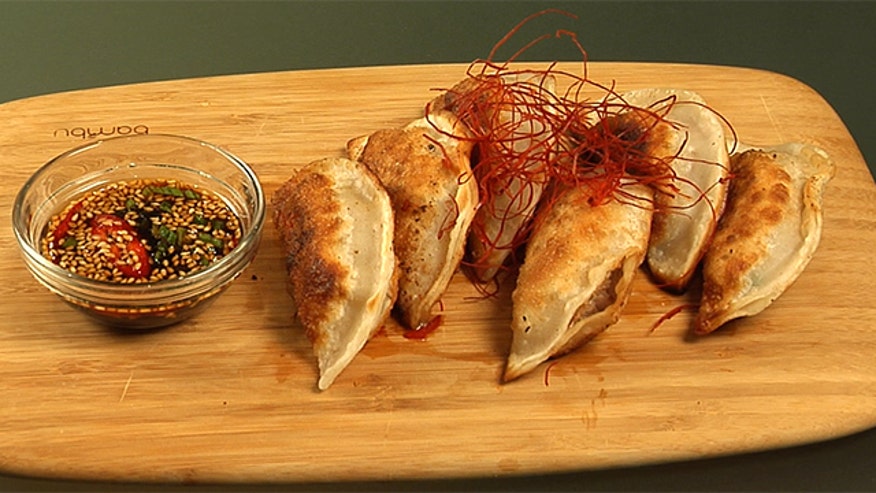 Here's everything worth reading about:
Only one day after going shirtless for her book signing, Kendall Jenner posted pictures from a topless photoshoot on Instagram. Apparently, Kendall Jenner couldn't stand the thought of Kendall Jenner soaking up her spotlight.
On Wednesday, LeAnn Rimes arrived at the CMT Awards wearing a plunging white gown (below). But if you look closely — and you will — you'll notice that half of the "plunge" is really just see-through fabric, so it doesn't technically count (as per the official cleavage rulebook).
Have you had a chance to check out "Korean Food Made Simple" on the Cooking Channel? If not, you're missing out. Get caught up in the video above, and watch as host Judy Joo serves up her mouthwatering Korean mandu dumplings.
An ad for Rihanna's new fragrance, called Rogue, has been banned in the UK for being too "sexually suggestive." (Imagine, using sex to sell perfume! Unthinkable!)
Sports Illustrated swimsuit model Chrissy Tiegen attended a charity event in a see-through gown that showcased her undies, much like fellow model Lily Aldridge did Click those links to take a peek, or just reminisce about the times you've seen them both wearing much, much less in the pages of Sports Illustrated.
Jennifer Lopez performed a free concert in her home borough of the Bronx on Wednesday, singing several hits and cycling through almost as many costume changes — none of which seemed to include pants.
According to Page Six, actress Courteney Cox and Snow Patrol guitarist Johnny McDaid have "discussed getting engaged," which might be the least romantic way to begin a marriage since the beginning of time.
"American Horror Story: Coven" actress Emma Roberts shared a string bikini pic from Hawaii, where she's vacationing ahead of the Maui Film Festival. In future news, Emma Roberts in a bikini is all anyone will remember about the Maui Film Festival:
It was recently revealed that, in 2013, Taylor Swift made a donation to the Children's Hospital of Philadelphia in the amount of $50K. Believe it or not, Taylor earmarked the money for music therapy programs, and not hundreds of inspirational posters of cats, as we all naively assumed.
Pharrell Williams has apologized for participating in an insensitive photoshoot with Elle UK in which he's wearing a Native American-style headdress. However, he still hasn't apologized for those he's been wearing for the past six months.
Like two girls who drank too much vanilla-flavored vodka at a frat party, Ireland Baldwin and friend Angel Haze were once again photographed kissing for the enjoyment of onlookers.
One of Queen Elizabeth II's pageboy's fainted near the end of her speech, making an audible *thud* as he hit the ground. He literally could not stand to remain conscious for the entirety of her remarks on foreign policy.
In other royal news, Prince William told students at an British high school that he "really like[s]" the rock band Linkin Park, which is a statement that might have been construed as cool in the year 1999.
The future Queen Letizia of Spain seems to be taking her style cues from Kate Middleton, as evidenced by their very similar ensembles. But we'd be careful if we were Kate, because this is how "Single White Female" began. (Don't pretend like you don't remember that movie.)
And finally, Disney is reportedly planning a live-action film version of "Beauty and the Beast," because they've apparently forgotten how dumb that was the last few times Hollywood has tried to do it.