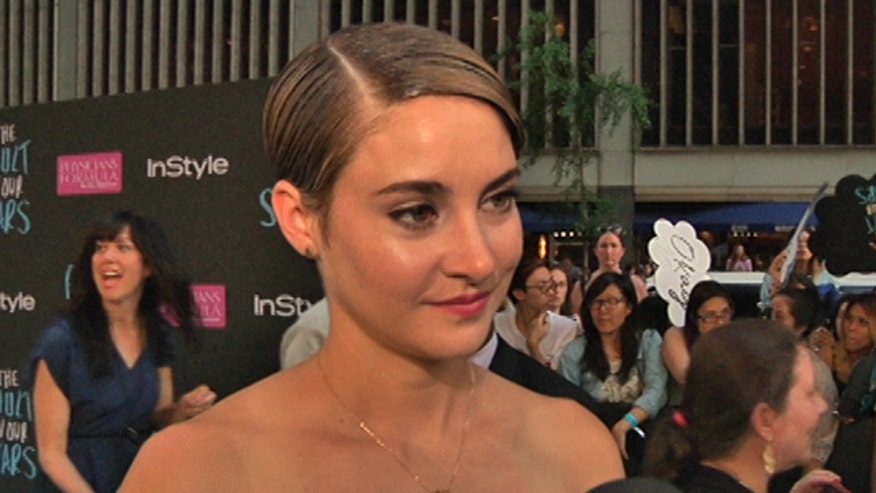 Here's what everybody's chatting about at the water cooler:
Cameron Diaz is taking it all off in the trailer for the movie "Sex Tape," a comedy about a couple trying to put some spice back into their relationship. Costarring Jason Segal, the film is set to be released in July. Watch the trailer below.
Kendall Jenner stepped out in a business-like blue suit for a book signing on Tuesday (below), but forewent a shirt underneath her blue blazer, which is decidedly un-business-like.
Everybody's excited for "The Fault in Our Stars," us included. We caught up with stars Shailene Woodley and Laura Dern on the red carpet at the film's premiere. Check out the video above to hear what they loved about their movie.
Beyonce, Solange, and Blake Lively all turned out for Gucci's Chime for Change event in NYC, which, from the looks of it, is working to unite women across the world through the power of cleavage.
Paul Walker's little brother Cody was apparently so good at standing in for - and also somewhat looking like - his late older brother in the upcoming "Fast and Furious 7" film, that he's rumored to be joining the "F&F" cast as his own character.
A new biography of Jacqueline Kennedy Onassis claims that she was making plans to divorce JFK before his untimely death, but the cover of this thing looks like something you'd buy at a Scholastic Book Fair, so maybe we shouldn't accept this as fact just yet.
Presumably after seeing how well it worked for Taylor Swift, Katy Perry has decided to go ahead and just write a bunch of songs about John Mayer too, she confirmed in Cosmopolitan magazine.
Harry Styles' cousin posted a nude photo of the One Direction singer online, with his privates carefully cropped out by the photographer's head. So maybe this means that Styles wasn't actually nude, but instead wearing an unofficial "I Heart Zayn" thong. Actually, it's more fun to imagine the latter scenario.
On Tuesday, Miranda Lambert's private plane was forced to make an emergency landing in West Virginia, where she and her friends made the best of things by trying on shiny hazmat suits from a nearby fire station (below) until her plane was ready to take off again. People like us, however, still have to fight with the flight attendants for an extra bag of peanuts while waiting on the runway.
Nicole Richie was recently spotted with cupping marks on her back, indicating that she's one of the latest celebrities to adopt this alternative health practice. Funny, we never imagined her slight frame could withstand the rigors of gentle suction.
After joking about having her wedding at an Applebee's, Jenny McCarthy and fiance Donnie Wahlberg, were actually invited to hold their nuptuals at an Applebee's. It's a nice gesture, but c'mon. Nobody wants to have a wedding at Applebee's. It's T.G.I. Friday's or nothing.
Us Weekly has confirmed that Kourtney Kardashian is expecting her third child. And yes, she still insisted on getting pregnant by Scott Disick, who we've already mistook as her third child on many, many occasions.
During Prince WIlliam and Kate Middleton's recent visit to Scotland, a local artist presented the royals with an unsolicited portrait of Kate, which William called "brilliant" and reportedly insisted on hanging in his room.
And finally, a woman in England called the police on a ice cream man who only put sprinkes "on one side [of the cone] and not the other," which is laughable, because everybdoy knows you call the S.W.A.T. team for those kinds of egregious offenses.