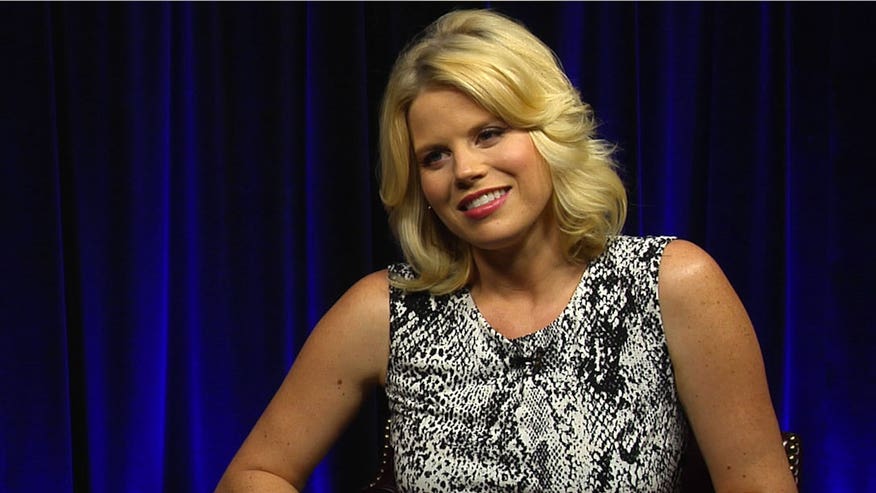 Here's what we've heard:
Kanye West reportedly commissioned a topless portrait of Kim Kardashian — in which she's only wearing a g-string and heels — to give to his new bride as a wedding present. You hear that, Bruce and Kris? Now you know what to expect if you make it to your next anniversary!
Rihanna basically went naked to the CFDA Fashion Awards in New York City. We're disregarding the thin, diaphanous fabric that's draped across her frame: She's naked, and anyone who says different is a liar. (The below photo is just a preview; the actual link is probably NSFW.
These days, actress Megan Hilty is getting ready to take on her most challenging role yet — that of a new mom. But we caught up with Hilty to reflect on her past role on "Smash," and to find out what it was like to channel screen legend Marilyn Monroe. Hear what she said in the video above.
Speaking of "Smash," former star Katharine McPhee has been making the news, too. But not for acting or anything — she's just been traipsing around Mexico in a bikini after filing for divorce from her husband.
Jennifer Lopez's 27-year-old boyfriend Casper Smart was rumored to be sexting a transsexual model behind Lopez's back. But in all fairness, he had to do it behind her back! Otherwise, she'd have caught him sooner!
Sinead O'Connor revealed a new look to go along with the release of her latest album, and by "new look," we mean hair. She has hair now.
On Monday, Mariah Carey proved she doesn't know how to dress for everyday public outings by wearing a mermaid gown to take her kids to the playground. Still, it's more appropriate than the time she wore a bikini top to the movies.
Casey Kasem's wife reportedly threw a pound of hamburger meat at his daughter Kerri. The reports are making it sound like a malicious act, but perhaps it was just dinnertime at the Kasem household. It's too soon to jump to any conclusions.
Now that Rumer Willis and Scout Willis have had their moments in the sun (literally, in Scout's case), it's Tallulah Willis' turn. But Bruce and Demi youngest daughter isn't making headlines for racy gowns or topless tweeting; she merely dyed her hair green. The nude stuff will probably come later.
For reasons that are almost too convoluted to mention, comedian Chris Kattan was also at the same CFDA ceremony as Rihanna, but he chose to dress as his (somewhat) beloved "SNL" character Mango. If you'd like to see what it looks like when a man has officially run out of ideas, see below:
Victoria's Secret model Karlie Kloss told Us Weekly that BFF Taylor Swift has "no time for boys" because she's been traveling so much, which would only make sense if Swift were frequently traveling to Themyscira, Wonder Woman's fictional all-female home island. (There's boys everywhere, is what we're saying.)
Oscar-winning actress Lupita Nyong'o and "Game of Thrones" fan favorite Gwendolyn Christie have signed on for the upcoming "Star Wars" installment, which, at the very least, ensures that they'll be able to make a living signing autographs at "Star Wars" conventions, if their careers should ever go sour.
MySpace is reportedly trying to lure back its old users by reminding them of all the embarrassing things they know about you, much like the old boyfriends you met on MySpace.
Miley Cyrus' new wax likeness at Madame Tussauds in Germany is so uncanny, you'd swear it was about to jump out at you and lick the underside of your shoe while yelling "Molly!" or "Yolo!"
On Monday, a very-pregnant Alyssa Milano made an appearance on "Good Morning America" to promote her ABC show "Mistresses." And when we say "very pregnant," we mean we'd be surprised if she hasn't given birth by the end of this sentence.
In an exclusive statement to People magazine, Brad Pitt commented on the antics of red-carpet "prankster" Vitalii Sediuk, who previously lunged at him in Hollywood and tried to hide under America Ferrara's skirt in Cannes. According to Brad, "If he tries to look up a woman's skirt again, he's going to get stomped." We'd pay to see that, Brad. Make that your next movie.
And finally, cookie worlds are colliding, as Nabisco is now offering Chips Ahoy cookies stuffed with Oreo creme. This is like when Batman and Superman appear in the same comic book, except, you know, not like that at all.